Flagship Retail Locations Could Spell REIT after Hudson's Bay, Saks Deal
---
---
Hudson's Bay Company will explore the creation of a real estate investment trust as the company's proposed acquisition of Saks Inc. stands to add a number of flagship retail locations to the company's portfolio. HBC agreed to acquire Saks for $16.00 per share in an all-cash transaction valued at $2.9 billion.
The merger will create a large real estate portfolio that will include the Saks Fifth Avenue locations on Fifth Avenue in New York and Wilshire Boulevard in Beverly Hills, as well as Lord & Taylor's Fifth Avenue location.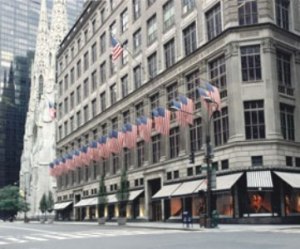 "HBC will evaluate strategic alternatives to fully realize the substantial value from the combined property portfolio including but not limited to the creation of a real estate investment trust," the company announced in a joint statement released Monday.
The limited components of a REIT, which would potentially contain just three entities, could create obstacles, analysts warned.
"The challenge here is the creation of a REIT that would have a relatively focused cash flow basis in the form of potentially three department stores," Cedrik Lachance, managing director at Green Street Advisors, told The Commercial Observer.
Creating a REIT is motivated by the desire to extract value from real estate that is not priced into a company's stock. However, it is not immediately clear that an HBC and Saks REIT could harness that value, Mr. Lachance noted.
An alternative could be to form a REIT internally, as has been done by Dillard's and JC Penney, Mr. Lachance suggested. An internal REIT, which would not be spun out to investors, could reduce the company's tax burden.
Still another option could be the potential sale and lease back of highly valued real estate, such as Saks' Manhattan flagship.
"When you think about Saks, the Manhattan store likely has tremendous value," Mr. Lachance said. "A sale lease back of one asset can also be one way to unlock real estate value from the portfolio."
Founded in 1670, Hudson's Bay Company is the longest continually operated company in North America. The Toronto-headquartered corporation was acquired by Robert Baker, Bill Mack, Lee Neibart and Richard Baker of NRDC Equity Partners in 2008. The partnership had previously acquired Lord & Taylor in 2006.
"This exciting portfolio of three iconic brands creates one of North America's premier fashion retailers," said Richard Baker, chairman and chief executive officer of HBC, in the statement. "This acquisition will increase our growth potential both in the U.S. and Canada, generate significant efficiencies of scale, add to our powerful real estate portfolio and deliver substantial value to our shareholders."
The transaction will be financed with $1 billion of new equity, $1.9 billion of senior secured notes, $400 million of senior unsecured noted and available cash on hand, according to the companies' announcement.
Previously, Starwood Capital's Barry Sternlicht was seen as one of the leading bidders for Saks but later extracted himself from the process. As reported by the New York Post, Catterton Partners had approached Mr. Sternlicht about a joint bid for the retailer. The partnership would have seen Mr. Sternlicht take over Saks' real estate.
HBC was advised by Bank of America Merrill Lynch and RBC Capital Markets. The company received legal counsel from Stikeman Elliott LLP and Willkie Farr & Gallagher LLP. Saks was advised by Goldman Sachs, Morgan Stanley and Guggenheim Securities, while Wachtell, Lipton, Rosen & Katz acted as legal counsel.
Bank of America Merrill Lynch
,
Barry Sternlicht
,
Bill Mack
,
Catterton Partners
,
Cedrik Lachance
,
Dillard's
,
Goldman Sachs
,
Green Street Advisors
,
Guggenheim Securities
,
Hudson's Bay Company
,
J.C. Penney
,
Lee Neibart
,
Lord & Taylor
,
Morgan Stanley
,
NRDC Equity Partners
,
RBC Capital Markets
,
Richard Baker
,
Robert Baker
,
Saks Fifth Avenue
,
Saks Inc.
,
Starwood Capital Group
,
Stikeman Elliott LLP
,
Watchtell Lipton Rosen & Katz
,
Wilkie Farr & Gallagher LLP