Downtown Residential Development Site Sells for $223 Million
---
---
A partnership between Fisher Brothers and The Witkoff Group has acquired 101 Murray Street from St. John's University for $223 million, it was announced today. The sale is the largest residential development site transaction in lower Manhattan.
"101 Murray Street is a development site like no other in Manhattan with the potential to become a truly world-class residence," said Helen Hwang, executive vice president at Cushman & Wakefield, who represented the seller, in a prepared statement. "We are privileged to have helped St. John's University successfully realize such an important transaction for its academic mission."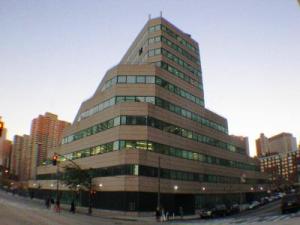 The site, slated for a residential development, features a 31,028-square-foot footprint and allows for development of a building totaling 310,028 square feet, with the potential to increase to 372,336 square feet through floor area bonuses.
"This is yet another exciting new project for Fisher Brothers and we couldn't be happier," said Winston Fisher, partner at Fisher Brothers, in a separate statement.  "Lower Manhattan continues to evolve at a record-setting pace and we are proud to be a part of it, along with The Witkoff Group. We'd also like to thank St. John's University for being such a great partner in this transaction."
St. John's will continue to occupy the 10-story property until mid-2014. The University plans to locate another Manhattan campus facility to house academic programs, such as the Tobin College of Business School of Risk Management, prior to the 2014-15 academic year.
"The University takes great pride in our presence in New York City, and the overwhelming success of this transaction allows us to ensure the strength of that presence for generations of St. John's students to come," added Martha Hirst, executive vice president, chief operating officer and treasurer at St. John's, in a statement.
In May, St. John's announced it had agreed to sell the property to the Fisher Brothers and Witkoff Group partnership.
"We are very excited to be joining with the Fisher Brothers as partner and co-developer of this exceptional property, and we laud St. John's for its vision," Steven Witkoff, chairman and chief executive officer of The Witkoff Group, said in a statement at the time. "Lower Manhattan is experiencing dynamic commercial and residential growth, and this site sits atop the front edge of that wave."
Ms. Hwang, Nat Rockett, Karen Wiedenmann, Steve Kohn and Michael Rotchford represented St. John's in the transaction.
101 Murray Street
,
Cushman & Wakefield
,
Fisher Brothers
,
Helen Hwang
,
Karen Widenmann
,
Martha Hirst
,
Michael Rotchford
,
Nat Rockett
,
St. John's University
,
Steven Kohn
,
Steven Witkoff
,
The Witkoff Group