The $200 Club: Triple Digit Leasing Activity Shifts into High Gear
---
---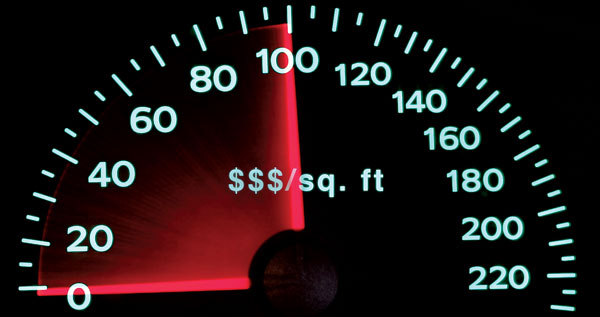 Some were surprised, to say the least, when news spread last month that Brazil's Banco Itaú had agreed to pay upward of $200 per square foot for a 35,000-square-foot space on the 50th floor of the General Motors Building at 767 Fifth Avenue.
"I nearly fell off of my chair when I read that," said one broker, speaking on condition of anonymity. "Most of my banking clients would have a hard time justifying that decision."
"The foreign banks should know better," he went on, unleashing a tirade on fiscal responsibility.
Brazil, however, was mostly spared the cataclysmic effects of the European sovereign debt crisis, in the same way that New York City was spared the economic devastation that rolled through the country during the Great Recession. So it makes sense that in the shadow of that enormous deal, amid an emerging air of post-recession optimism, lies a tremendous rebound in triple digit-leasing across Midtown.
As the second quarter of 2013 comes to a close, 28 triple-digit leases have been recorded, according to data from Cushman & Wakefield. Annualized, the number of triple-digit leases soars to approximately 60, the highest number since 2008 and one that would trounce last year's 35 such deals.
The trend is not a reflection of a tangible boom in the financial sector at large—not yet, anyway. But the increase represents an elite group of small, prestigious boutique financial firms across the city that are perhaps intent on savoring another taste of pre-recession glory, amid a shortage of high-end space.
"These are the Chanels of the real estate community—and it seems clear that there is plenty of demand for the finest fashion that New York has to offer," said Michael Cohen, tristate president at Colliers International. "There are a growing number of firms that can make decisions that are not based solely on economics. It's a reflection of ego, importance, personal tastes and desires, and ultimately it reflects that kind of mentality."
If these firms are the Chanels of the real estate world, then the Guccis of the financial building stock include the General Motors Building at 767 Fifth Avenue, the Seagram Building at 375 Park Avenue and the Bank of America Tower at 1 Bryant Park, each boasting premium spaces on high floors with sweeping city and park views.
The desire for companies to be in such space is to some degree a product of a need to impress clients in a heavily client-dependent business. Buildings catering to these firms also offer premium build-outs and harbor cooling and other infrastructure systems that accommodate the 24/7 equipment and trading systems that many financial firms depend on.
"It has all the infrastructure," said David Emden, director at Newmark Grubb Knight Frank, after bringing Waterfront Capital Partners and Oak Circle Capital Partners last month to 540 Madison Avenue, where rents stretch above $100 per foot. "High-end financial service guys don't want to lift a finger building-out space."
In addition, much of it boils down to the simple desire to feel and look the best, because for the firms that can afford these spaces, the difference between $80 and $120 rents is negligible.
"If a guy making $600 million a year has the opportunity to overlook Central Park in an environment where he feels good and his people feel good, and it's a $2-million-a-year incremental difference, you're going to see leases like this," said Robert Alexander, chairman of CBRE's tristate region. "And I think you're going to continue to see leases like this."
As the economy continues to improve, Mr. Alexander, like many others, is confident that larger firms will begin taking triple-digit space despite the greater financial implications—and potential consequences.
1 Bryant Park
,
1 World Trade Center
,
375 Park Avenue
,
444 Madison Avenue
,
767 Fifth Avenue
,
Avison Young
,
Bank of America Tower
,
Barbara Byrne Denham
,
Boston Properties
,
Boutique financial
,
Brazil's Banco Itaú
,
Cassidy Turley
,
CBRE
,
Colliers International
,
Crown Acquisitions
,
Cushman & Wakefield
,
CVC Capital Partners
,
David Emden
,
ellis lake capital
,
General Motors Building
,
Harry Macklowe
,
Highgate Holdings
,
Ken McCarthy
,
Lance Leighton
,
Michael Cohen
,
Newmark Knight Frank
,
Oak Circle Capital Partners
,
Richard Persichetti
,
Robert Alexander
,
seagram building
,
triple digit leasing
,
Waterfront Capital Partners