StyleCaster Celebrates Fifth Birthday with Relocation
---
---
StyleCaster Media Group, a fashion and beauty media company that publishes StyleCaster.com as well as Beauty High, Daily Makeover and The Vivant, has marked its fifth birthday by signing a 10-year lease for 23,430 square feet, the entire 11th floor, at 440 Ninth Avenue, The Commercial Observer has learned. Asking rent was in the high-$40s per square foot.
"In the past year we have tripled our company size, doubled our revenues and brought on more team members," said Meghan Cross, director of communications. "We're celebrating our hyper growth by moving."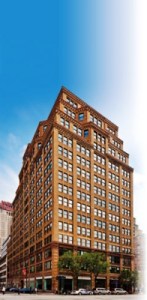 The media company has been based at 49 West 27th Street since its founding in 2008 and plans to move to 440 Ninth Avenue in October following a build out which will aim to recreate StyleCaster's current studio space.
Though space was an important component of the company's search, the excitement building around the Far West Side was also attractive, with a number of other digital companies moving both to the area and the building.
"It is a new frontier of Manhattan, we are excited to move there because of that," Ms. Cross said.
As reported by The Commercial Observer last month, LeadDog Marketing Group signed a 10-year lease for 24,929 square feet at 440 Ninth Avenue.
At their new location StyleCaster plans to sublet six blocks of space to startups, creating an incubator for entrepreneurs.
"It's a very exciting time for StyleCaster, we are thrilled to be getting this fifth birthday present for ourselves," Ms. Cross said.
StyleCaster was represented by David Kleinhandler and Michael Politi of CBRE and Jordan Mandel of The Vortex Group. The landlord, Paramount Group, was represented by Stephen Schofel, Elizabeth Houley, Josh Gosin and Daniel Hassett of Newmark Grubb Knight Frank.
Paramount Group did not return requests for comment.
440 Ninth Avenue
,
49 West 27th Street
,
CBRE
,
Daniel Hassett
,
David Kleinhandler
,
Elizabeth Houley
,
jordan mandel
,
Josh Gosin
,
LeadDog Marketing Group
,
Meghan Cross
,
Michael Politi
,
Newmark Knight Frank
,
Paramount Group
,
Stephen Schofel
,
StyleCaster Media Group
,
the Vortex Group