Retail Condo Hits the Block at Toll Brothers' Gramercy Condo Building
---
---
Toll Brothers has appointed Massey Knakal to exclusively market a retail condominium at its 21-story luxury condo development at 160 East 22nd Street in Gramercy, The Commercial Observer has learned.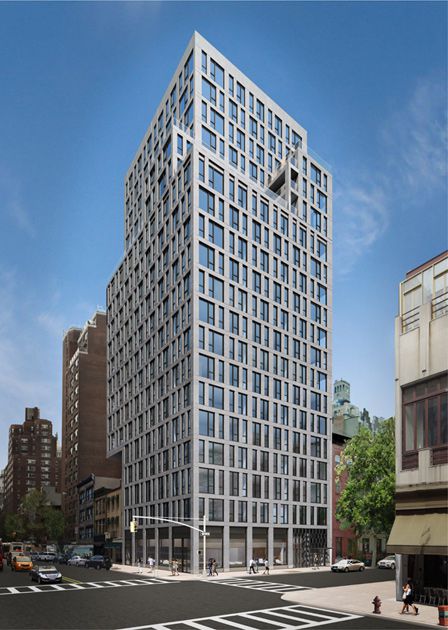 The asking price for the 2,560-square-foot ground floor corner condo unit is $8.5 million and will be delivered for occupancy in the summer of 2014.
"Toll Brothers has already gotten a tremendous amount of unsolicited activity and they hired us to streamline the process," said Massey Knakal's John Ciraulo, who is handling the sale with Craig Waggner. "It's something they want to get off their plates now rather than have to deal with five or six months down the road."
The space, being marketed to dry use tenants only, features 18-foot ceilings and roughly 100 feet of wraparound frontage on Third Avenue and 22ndStreet.
"You don't see a lot of brand new development in this area," Mr. Ciraulo said. "The high ceiling heights make it perfect for a bank or some type of medical facility."
The building, clad in gray Indiana limestone, is slated for 81 high-end condos and the developer anticipates LEED Certification, with high efficiency HVAC systems and locally sourced, sustainable building materials.
Two blocks west of the site is Related Companies' One Madison, a luxury residential condominium tower located on 23rd Street, between Broadway and Park Avenue South.
"This is an up-and-coming area that continues to be very strong as far as retail goes," Mr. Ciraulo said.
Toll Brothers paid just under $35.6 million in a foreclosure auction for the then-bankrupt property – along with the air rights from four other properties – in June of 2011.
The original developers, Norman Kaish and Leonard Taub, reportedly defaulted on a $30.5 million borrowed from UBS Real Estate Investments, forcing foreclosure and ultimate bankruptcy in March 2011.