Oakley to Open Fifth Avenue Flagship
---
---
Oakley has signed a 10-year lease for 6,800 square feet across the ground, second and lower levels at 560 Fifth Avenue, it was announced today. Asking rent for the ground floor was $1,150 per square foot.
"A few steps away from Rockefeller Center and other international retailers, this is a perfect fit for a brand like Oakley," said Mark Stempel, president of CityVest Realty Corp., who represented the landlord, in a prepared statement.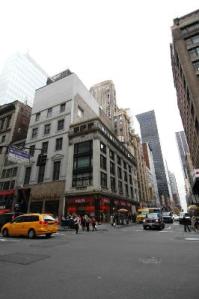 Currently, Cute Souvenirs occupies the property's ground floor and a jewelry and gift store occupies the second floor. The current tenants will vacate within the next 90 days, by which point Oakley will move in.
The sportswear company, which signed its new lease on May 13, operates "O Stores" at 113 Prince Street in Soho and 1515 Broadway in Times Square. The company's products are also available from other retailers throughout the city.
As reported, Oakley took 1,815 square feet at 1515 Broadway, where asking rents were $1,400 per square foot, in 2010.
"[Times Square is] catching up to Fifth Avenue, which gets $2,000 a foot for the best spaces," said Jeffrey Roseman of Newmark Knight Frank, who represented landlord SL Green, at the time.
David Rosenberg, executive vice president, and Beth Rosen, managing director, of Robert K. Futterman & Associates and Ellen Lee Kiely of Milestone Advisors, represented the tenant in the Fifth Avenue lease.
113 Prince Street
,
1515 Broadway
,
560 Fifth Avenue
,
Beth Rosen
,
CityVest Realty Corporation
,
Cute Souvenirs
,
Dan Rosenberg
,
Ellen Lee Kiely
,
Jeffrey Roseman
,
Mark Stempel
,
Milestone Advisors
,
Newmark Knight Frank
,
Oakley
,
Robert K. Futterman & Associates
,
SL Green Realty Corp.