Murray Hill Represents Eretz Group in $200 Million Purchase of 295 Madison Avenue
---
---
A contract was signed on Friday for the sale of Westbrook Partners and Moinian Group's 295 Madison Avenue, The Commercial Observer has learned.
Murray Hill Properties represented the buyer, The Eretz Group. A source, who spoke on the condition of anonymity and declined to name the purchaser, said that the sale price exceeded $200 million.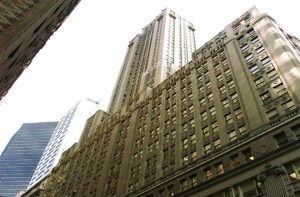 Westbrook in a joint venture with Moinian Group paid $180 million for the property in 2007. Moinian Group held a 15 percent interest in the tower on Madison Avenue at 41st Street.
Multiple sources said that the 300,000-square-foot 295 Madison Avenue initially hit the market in February. At that point, Moinian founder and chief executive Joe Moinian had a right of first offer to buy out Westbrook. A third party prospective buyer, who The Real Deal reported to be Eretz Group and chief executive Abe Talassazan, wanted to buy Mr. Moinian's ROFO along with the building, but walked away from the deal after Mr. Moinian requested that he be secured before the end of deal, meaning he had no financial exposure until the November closing.
Fast forward to late April, when Eastdil Secured and its broker Adam Spies exclusively brokered the sale of a Westbrook portfolio including 444 Madison Avenue, a handful of residential properties and 295 Madison Avenue.
According to sources, that roughly $1 billion package included a small-print disclaimer saying that the buildings could be purchased separately, which reignited the buyer's interest.
The deal, meted out over 10 days, should close in early September.
Representatives from MHP declined to comment on the transaction and Mr. Spies could not immediately be reached for comment.
[Note: This story has been updated to reflect that The Eretz Group was the purchaser in this transaction, as The Real Deal reported on Friday, June 7th]