Level 8 Apparel Inks 6,596-Square-Foot Deal at 250 West 39th Street Fashion Center
---
---
The outerwear manufacturer  Level 8 Apparel signed a 6,596-square-foot lease at 250 West 39th Street (between Seventh and Eighth Avenues), otherwise known as the Fashion Center.
Brokers from Tarter Stats O'Toole worked on the transaction with the tenant and landlord, Lincoln Property Company. Greg Gang and Ari Waldman repped Level 8, while Catherine O'Toole and Jonathan Mines represented LPC. Ms. O'Toole said asking rent was $36 a foot.
"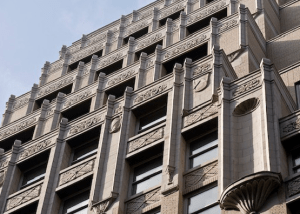 The building has made a big commitment to fashion," Ms. O'Toole said, and recent lease activity bears that out.
Last August, the apparel design company HMS Productions inked a 33,913-square-foot lease renewal at the roughly 200,000-square-foot Class B Garment District property designed in the 1920s by Schwartz & Gross. Other fashion firms that work out of the building include Anna Sui, L'Koral and Stoll America.
Ms. O'Toole said the density of fashion tenants at the property–the sector holds about 75 percent of leases–is a major draw for industry players. "The building has some light uses," she said. "There's a PR firm and an ad agency. But the roster and culture of fashion tenants has let us bring some very, very big names onboard"
The latest tenant will take up three-quarters of the fourth floor. "It's a new brand that produces and sells many other brands: Tumi, Skechers, Joseph Abboud, Samsung," Ms. O'Toole said. "It's a very nice tenant to have in the building."