Guideposts Takes Leap of Faith in Downtown Relocation
---
---
Faith-based not-for-profit organization Guideposts is relocating from its East 34th Street offices to 110 William Street, where the decades-old publisher of spiritual books, magazines and online content will reap the benefits of a Downtown location, brokers handling the deal told The Commercial Observer.
The company will occupy 8,599 square-feet of office space on the 9th floor of the 900,000-square-foot 32-story office tower, where landlord Kent Swig of Swig Equities is in the midst of building out a space for the tenant that will include a series of workstations, offices and conference rooms.
"I don't normally go on and on about how great a building owner is, but in this case it was true," said Cushman & Wakefield's Carri Lyon, who represented Guideposts with Jamie Katcher. "Ownership was a pleasure to work with and extremely hands-on, providing our client with a high-quality, custom built space."
In addition to the custom build out, desirable for any tenant, especially a non-profit, a list of incentives stacked up to make Guideposts comfortable with the relocation Downtown, Ms. Lyon said, calling the company a "prestige tenant."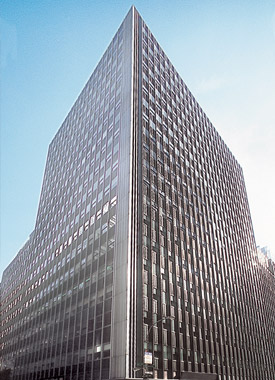 "It's not every time that I get a company with this kind of pedigree," she said.
Over the years, more and more of the company's employees reside in Brooklyn, and access to abundant subway lines that travel to the outer borough was a big draw for the tenant; as was the building's participation in the city's Commercial Revitalization Program, which serves Lower Manhattan and will transfer tax incentives from the owner to the tenant in the form of a rent reduction.
"I work with a lot of non-profits and getting benefits like these – the build out by the landlord, the incentives and the transportation – those are big things," Ms. Lyon said. "It just makes life so much easier for their employees."
The organization, which is headquartered in Danbury, Connecticut, was founded in 1945 by Dr. Norman Vincent Peale. The organization's magazines, books, prayer network, and outreach programs help people connect faith with their daily lives.
Jonathan Dean of Swig Equities represented the landlord in-house. He did not return calls and emails seeking comment in time for publication. Ms. Lyon was unable to disclose rents, but assured that it was a "good deal."