Christian Rock and Pop Company Tunes Up at 1040 AoA
---
---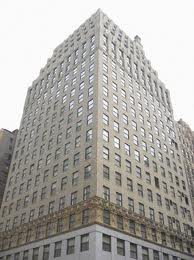 The company Up, an American satellite and cable television channel, has taken a 6,842-square-foot lease at 1040 Avenue of the Americas.
Originally founded as Gospel Music Channel, and later rebranded as Up TV, and then, finally, to Up, the channel focuses on Christian rock and pop and related original content. The company, which plans to enter the building in October, will be joining sister company InterMedia Outdoors, which operates a space on the 12th floor of the building.
Brad Needleman and Jared Silverman, brokers at CBRE, represented Up during negotiations. The pair were also responsible for bringing InterMedia Outdoors into the building last year as well.
"1040 Avenue of the Americas is a Class A office building that continues to attract both new and growing tenants to its premier roster," said Orin Wilf, president of Skyline Developers. "Our company has established this building as one of the signature office buildings around Bryant Park and a destination for tenants looking for both pre-built and custom-built office space."
The deal came following a signing for Alpha4x Asset Management LLC, which took a smaller 2,134-square-foot space on the 15th floor for general and administrative offices.
"These two transactions and the overall success at 1040 Avenue of the Americas reflect the strength in the office market around Bryant Park," said Ryan Kass, a representative for the landlord.
Mr. Kass and his partner, William Cohen, have completed several deals, cumulatively topping 60,000 square feet over the last year, including Macro Consultant LLC's 18,958-square-foot deal last summer and both Charles River Development and Charles River Systems within the last few months for 3,000 square feet a piece.
Asking rents in the building are in the low $50s with both of these spaces requesting $51 per square foot.
Brad Needleman
,
CBRE
,
Charles River Systems
,
Christian Rock and Pop
,
Gospel Music Channel
,
Jared Silverman
,
Lease Beat
,
orin wilf
,
Ryan Kass
,
Skyline Developers
,
Up
,
Up Tv
,
William Cohen