AvalonBay Plans to Erase 'Smelly Eyesore' From Great Neck Waterfront
---
---
Every once in a while a developer makes a proposal that seems too good to be true; but running a profitable business in times of prosperity can feel that way.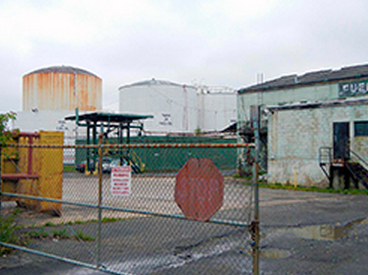 Apartment rental community behemoth AvalonBay Communities wants to clean up 240 East Shore Road in Great Neck, New York at "no cost to taxpayers" so it can build out one its signature communities and revitalize what some characterized as a currently decrepit waterfront along this Long Island community.
"This place is currently a smelly eyesore," David Zar of Zar Property NY, who lives just minutes away from the site, told The Commercial Observer. "We welcome this change and any other positive new developments in the area."
The initial proposal, presented by AvalonBay – which has built 273 such communities, with 10 on Long Island – at a May 9 village meeting, calls for the removal of the mid-1930's petroleum storage facility and six above-ground tanks at the site to make way for Avalon Great Neck.
The current facility allows up to 2.5 million gallons of petroleum product to be stored within six tanks, which some argue detracts from the otherwise beautiful landscape. After decades of use, portions of the site are contaminated, calling for extensive remediation.
"We work closely with public officials to properly execute residents' wishes and go above and beyond to surpass their expectations," Christopher Capece, AvalonBay's senior development director, said in a statement, seen by Great Neck Patch. "Our goal is to provide luxury rental apartments that will benefit the Great Neck community and offer lifestyle options that will be very attractive to area residents."
The initial plan calls for a complex made up of 200 one, two and three bedrooms, with a building no taller than the tallest of the petroleum tanks. Six stories would accommodate four residential floors, with parking below and at grade in addition to an amenity package that would include a health club and swimming pool.
"Their proposal sounds like a fabulous opportunity for the village," Great Neck Mayor Ralph Kreitzman told the Great Neck Record last month. "It will clean up a polluted property, eliminate an eyesore, restore the bulkhead and shoreline, produce an attractive building, provide apartments for new residents, downsizing residents and our workforce, and increase our tax base."
AvalonBay plans to submit a formal application for development to the Village of Great Neck within the coming weeks.
In March, the developer paid $63 million for a Class A multi-housing complex in Watchung, New Jersey.