Sister Companies Expand at 757 Third Avenue
---
---
Sister companies Aerotek and TEKsystems have signed 10-year leases for 13,551 square feet and 15,115 square feet, respectively, at RFR Realty's 757 Third Avenue, it was announced today. Asking rents at the property range from the low $50s to low $60s per square foot and the total value of the transaction is over $16 million, according to a press release.
"The RFR team always works hard to provide the best services and amenities that attract and retain the best quality tenants," said Aby Rosen, co-founder and principal at RFR, in a prepared statement. "That's the secret of our success here and throughout the RFR portfolio."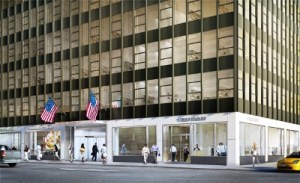 Aerotek and TEKsystems moved to 757 Third Avenue in 1997, two years prior to RFR's acquisition of the property. Then located on the second floor, Aerotek will now be located on eighth floor, with TEKsystems taking space on the 12th floor of the 500,000-square-foot building. The two companies, which specialize in recruiting and staffing, were founded by Steve Bisciotti, owner of the Super Bowl Champion Baltimore Ravens.
The property at 757 Third Avenue has undergone significant renovation since being acquired by RFR Realty in 1999. Since that time, the landlord has modernized the building's lobby and upgraded building systems. The building's tenant roster also includes a number of prominent Japanese companies, including Mizuho Alternative Investments LLC.
The tenants were represented by Cassidy Turley through L. Jamie Smith, Michael Norris and Jonathan Schindler. RFR Realty was represented both in-house by Steve Morrows, executive vice president and director of leasing, and by a Jones Lang LaSalle team headed by Mitchell Konsker and Alexander Chudnoff.
757 Third Avenue
,
Aby Rosen
,
Aerotek
,
Alexander Chudnoff
,
Baltimore Ravens
,
Cassidy Turley
,
Jonathan Schindler
,
Jones Lang LaSalle
,
L. Jamie Smith
,
Michael Norris
,
Mitchell Konsker
,
Mizuho Alternative Investments LLC
,
RFR Realty
,
Steve Bisciotti
,
Steve Morrows
,
TEKsystems