Marketing Firm Moves to 440 Ninth Avenue
---
---
LeadDog Marketing Group has signed a 10-year, 24,929-square-foot lease at 440 Ninth Avenue. Asking rents were $45 per square foot.
"It was the right balance; nicer than what we currently have, but not super corporate," Donna Providenti, chief operating officer at LeadDog, said of the space. "We are coming from old loft spaces that aren't really suited for office use."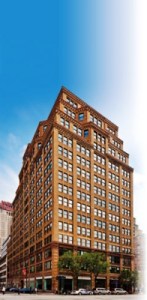 Currently located at 159 West 25th Street, LeadDog expects to move in to its space on the two top floors of the 18-story building by November 1 following a build out being done by the landlord, Paramount Group, Inc.
The 125-person marketing firm, which also has offices in Los Angeles, Boston, Chicago, Atlanta and Boulder, counts Vitamin Water, NASCAR, ABC, HBO, the New York Giants and the National Hockey League among its clients.
"We're on the Crain's list of fastest growing companies in New York and we are adding employees," Ms. Providenti noted of the business.
The marketing firm's space, spread across the 17th and 18th floors, includes a terrace and is convenient to mass transit, which both appealing amenities, according to Ms. Providenti.
"We weren't focused on that area, but the space was the best fit that we found," she added. "We really liked the terrace and the space itself worked for us."
As reported yesterday, Century Management Services, a residential property manager, signed a lease for 11,373 square feet on the 15th floor at 440 Ninth Avenue. The company expects to occupy its space by June.
Erik Schmall and Michael Mathias, both of Studley, represented the tenant in the transaction. Paramount was represented by Stephen Schofel, Elizabeth Houley, Josh Gosin and Daniel Hassett of Newmark Grubb Knight Frank.
Calls to NGKF, Studley and Paramount Group were not immediately returned.
440 Ninth Avenue
,
ABC
,
Daniel Hassett
,
Donna Providenti
,
Elizabeth Houley
,
Erik Schmall
,
HBO
,
Josh Gosin
,
LeadDog Marketing Group
,
Michael Mathias
,
NASCAR
,
National Hockey League
,
New York Giants
,
Newmark Knight Frank
,
Paramount Group
,
Stephen Schofel
,
Studley
,
Vitamin Water