Lenox Hill Hospital/North Shore-LIJ Renews at 110 East 59th Street
---
---
Lenox Hill Hospital/North Shore-Long Island Jewish Health System has signed a 15-year renewal for 70,434 square feet at 110 East 59th Street. Asking rents were in the $70s.
"They had a lease that had a little bit of term left to go, but they want to do some work in the space, so they just wanted to put a little bit more term on the lease," Dennis Brady, executive managing director at Jack Resnick & Sons, the landlord, told The Commercial Observer.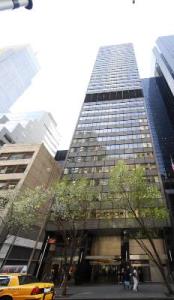 The tenants, physicians associated with Lenox Hill Hospital, which was acquired by North Shore-LIJ in 2010, have been in the building for approximately 15 years and will continue to occupy the 8th, 9th and 10th floors of the 37-story building.
"As North Shore-LIJ expands its New York City presence, we are pleased that 110 East 59th Street will remain a key Manhattan location for this highly respected healthcare organization," added Jonathan Resnick, President of Jack Resnick & Sons, in a prepared statement.
The 500,000-square-foot Class A building also counts Cantor Fitzgerald, Estee Lauder and IMAX Corporation among its tenants. The landlord is currently marketing a 3,400-square-foot space in the tower portion of the property, where asking rents are $110 per square foot.
Mr. Brady represented the landlord in the transaction. The tenant was represented by Brian Waterman and Brent Ozarowski of Newmark Grubb Knight Frank.
NGKF did not immediately return requests for comment.
110 East 59th Street
,
Brent Ozarowski
,
Brian Waterman
,
Cantor Fitzgerald
,
Dennis Brady
,
Estee Lauder
,
IMAX Corporation
,
Jack Resnick & Sons
,
Jonathan Resnick
,
Lenox Hill Hospital/North Shore-Long Island Jewish Health System
,
Newmark Knight Frank