Development Projects Abound, But Boroughs Still Under-Retailed
---
---
New York City is the number one retail location in the world. Retailers from around the world flock to open flagship stores throughout the Big Apple. Apple's store on Fifth Avenue, with its familiar cube, has the highest revenue of all Apple stores. Then there are the flagships of Uniqlo, Zara, Tiffany & Co., Bergdorf Goodman and a cast of others. Nevertheless, when you ask prominent owners of commercial real estate as well as local and national retailers, the general consensus is that the outer boroughs of New York City are severely under-retailed.
Eastern Consolidated's Barbara Byrne Denham reported in May 2012 that retail sales per capita ratios for the outer boroughs were far below the national average. Brooklyn was 39 percent below, Queens was 40 percent below and the Bronx came in a whopping 60 percent below.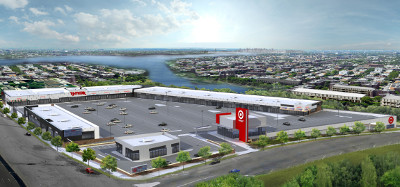 "Our biggest problem is securing sites in the five boroughs to build adequate retail," Christopher Conlon, chief operating officer and executive vice president at one of the most active developers of urban retail in the boroughs—Acadia Realty Trust—told The Mortgage Observer. Thomas Caputo, president of Equity One, a REIT active in development of retail sites in New York City and Long Island, concurred with Mr. Conlon on the lack of adequate retail in the boroughs.
With a limited availability of developable land, many of these developers are working with the New York City Economic Development Corporation and other agencies to secure sites. In March of 2012, Equity One was selected by the New York City Economic Development Corporation to redevelop a surface parking lot into a 130,000-square-foot multi-level retail center at grade. The development, Broadway Plaza, at 171 West 230th Street in the Kingsbridge section of the Bronx, is located at the intersection of West 230th Street and Broadway with direct access off of the Major Deegan Expressway. Equity One's site is at the hub of a major retail corridor that is well served by subway, buses and easily accessible by automobiles. With almost 550,000 people within less than three miles, the project reflects the REIT's strategy of bringing convenience to urban areas that are underserved by national retailers. Construction commenced earlier in 2013 and the project is expected to open in fall 2014.
171 West 230th Street
,
430 Westchester Avenue
,
A/X Armani Exchange
,
Aaron Malinsky
,
Acadia Realty Trust
,
Adidas
,
Alamo Drafthouse Cinema
,
Angelo Gordon & Co.
,
Applebee's
,
Barbara Byrne Denham
,
bergdorf goodman
,
Broadway Plaza
,
Century 21
,
Christopher Conlon
,
City Point
,
coach
,
Eastern Consolidated
,
Empire Outlets New York City
,
Equity One
,
Famous Footwear
,
FRESH grocery store
,
Lester Petracca
,
MetroOptics Eyewear
,
Metropolitan Realty Associates
,
New York Alamo Drafthouse City Point
,
New York City Economic Development Corporation
,
Nike
,
Paul Slayton
,
Petco
,
Riverdale Crossing
,
Simone Development Cos.
,
T.J. Maxx
,
Thomas Caputo
,
Throggs Neck Shopping Center
,
Tiffany & Co.
,
Triangle Equities
,
Uniqlo
,
Washington Square Partners
,
Zara