Cushman's Matt Winn on the Wide World of Retail and the Death of Mass Luxury
---
---
As a senior managing director and head of retail services in the Americas at Cushman & Wakefield, Matt Winn oversees 325 brokers making deals from Canada to Brazil. In previous roles at C&W, the Atlanta-based Mr. Winn handled the expansion efforts of tenants including Nike, Abercrombie & Fitch and Ann Taylor. The Commercial Observer caught up with Mr. Winn at his company's booth on Monday morning at the International Council of Shopping Centers' RECon real estate summit in Las Vegas to discuss the return of "true luxury" and strategies for walking the convention floor.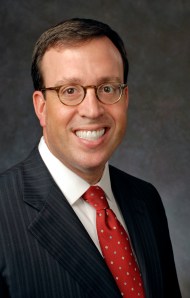 The Commercial Observer: How would you sum up the current outlook for retail in America? 
Mr. Winn: We describe it in general as the following: a couple of years ago we created a graphic. If you can imagine this—it's taller on the ends in terms of growth, which would be luxury or discount, and then flat or dropping in the middle. We call it the barbell of prosperity. And the reason we say that is the middle class has to push in order to eliminate the sagging middle. The economy has to be lifted up to see the growth in all sectors.
So you're seeing this outperformance at either end of the system. That's the most macro view of the United States market. What does that mean for property? Fortress malls and downtown high streets that have the luxury tenants are doing better. And so are the outlet malls. Then that power center is not doing so well. Groceries you sort of have to exclude from that, because food is a staple. People obviously will always need that.
And then it's the same thing within the investment markets. All the cap rates are coming in the same way.
The things that are really affecting that are: one, globalization; two, urbanization; and three, the fracturing of retail by technology. So tenants from all over the world are now looking, since the recession, for new customers. So if you look at Gap—and they're doing O.K. on same-store sales growth—but where they're really doing well is China, Turkey, all of these new markets. Abercrombie & Fitch, Tiffany, they're all looking and expanding. And similarly, all the retailers from those environments are coming here.
In New York it seems like a new international retailer opens every week. 
Right. H&M, for example.
You also have retailers expanding within the Americas, like Joe Fresh from Canada. 
Correct.
In terms of the fracturing of retail by technology, is the luxury sector less affected than others? It seems to me that the luxury clothing customer, for example, would want to try on their expensive clothes before purchasing them. 
Well, the ones from a property standpoint that are probably most affected are any stores that sell commodities. Record stores are gone. Bookstores are on their way to being gone, right? But every sector will be affected in different ways. And to think that it won't happen is a little bit naïve.
Even within the apparel segment, if you look at it, it's affected in different ways. So, Burberry had no Facebook presence in 2010. Now they have 15 million fans on Facebook. And they have more fans than the New York Times or the New York Yankees combined. And what that allows them to do is crowdsource what's popular.
They can see how many likes they get. 
Right. If they do an online fashion show, they can see how many likes they get for green versus blue. Now you can manage your inventory and increase your profits at [the] most basic level.
There was an article in Women's Wear Daily last week that said we'd entered the "single-digit era" of luxury retail. Now, the economy seems to be tentatively on the rebound, and you could think that would lead to a luxury boom. What's causing this slow-down to a forecasted 4 or 5 percent growth this year compared to 11 or 12 percent in the past couple of years?
Well, I think what luxury's doing is going from an era of mass luxury—catching as many customers as possible—to true luxury, which is making a product specifically for a luxury market. So that may mean slower growth but higher profit. A lot of the luxury houses have raised prices lately, which is part of the trend of getting back to true luxury. You can't straddle the middle anymore.
You mentioned commodities earlier. What's a quintessential example of the middle market retail that's neither discount nor luxury and that's getting hit hard right now?
There are so many different ways to look at that. Penney's is a good one.