348 Atlantic Avenue, Home to Mile End Deli, Hits the Block at $9.15 Million
---
---
A four-story, 5,975-square-foot mixed-use building at 348 Atlantic Avenue, home to Mile End Deli in Boerum Hill, has hit the market with a price tag of $9.15 million, The Commercial Observer has learned.
Eastern Consolidated Senior Director Lipa Lieberman, Associate Director Michele Nicoletta and Director of financial services Gary Meese are marketing the property on behalf of the seller, identified as 348 Atlantic Avenue LLC.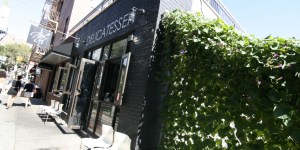 The property includes six free market rental units and three ground floor retail units with average rents of $3,000 a month, Mr. Lieberman said. The current retail occupants are Hoyt Street Market & Deli, a real estate brokerage and the wildly popular Mile End , which somewhat recently branched out to Manhattan.
Mr. Lieberman told The Commercial Observer that a sale would not affect the existing retail tenants.
"The investment's characteristics resemble that of a net lease property considering its need for little management, and it will certainly appeal to 1031 Exchange buyers and other passive real estate investors," Mr. Lieberman said in a prepared statement. "As the Atlantic Avenue corridor continues to redevelop, there's significant near term upside potential in both the property's monthly residential rents and commercial rents."
348 Atlantic Avenue underwent a gut renovation starting in 2008. In the summer of that year, a new owner paid $2.2 million for the property.