Yahoo!, Facebook, Warner Music and Amazon Reportedly Touring 229 West 43rd Street, Former NY Times HQ
---
---
When The Commercial Observer profiled 229 West 43rd Street (the former New York Times Building) earlier this month, leasing agent Brian Waterman of Newmark Grubb Knight Frank said "a bunch of larger tenants [were] hanging around the rim." Mr. Waterman declined to name names, but unconfirmed reports suggest interest among some big, usual suspects from the tech and media sectors.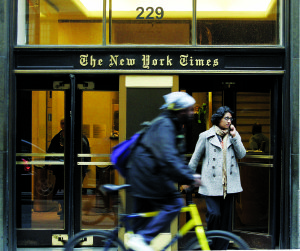 The New York Post reports that Yahoo! and brokers from Jones Lang LaSalle are scoping out the building for at least 175,000 square feet of space, which could ease crowding in the firm's two Midtown offices after C.E.O. Marissa Meyer nixed Yahoo's work-from-home policy.
The building's website currently lists 480,000 immediately available square feet.
Facebook, once again, is mentioned among the tech giants eying the 747,852-square-foot Times Square tower. The Post writes that the social media force could take 200,000 square feet in the building. Additional prospective tenants include Amazon, which has scoured uptown and downtown properties with Cresa Partners in its hunt for a 500,000-square-foot office, and Warner Music, whose 100,000-square-feet lease at 75 Rockefeller Center is nearing its expiration date.