Vornado to Sell Harlem Park Site
---
---
Vornado Realty Trust has agreed to sell Harlem Park, a parcel of land located at 1800 Park Avenue at 125th Street, where the REIT had initially planned to develop an office tower, it was announced today.
Vornado will receive $65 million plus additional undisclosed brownfield credits, tax incentives provided to developers for cleanup and reuse of brownfield sites.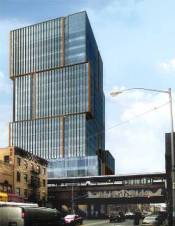 The sale, to an undisclosed buyer, is expected to close in the second quarter of 2013. The Harlem Park deal will net Vornado approximately $62 million in proceeds, with a net gain of $22 million, according to a statement.
As reported by The New York Observer, Vornado announced the end of its plans to develop Harlem Park in December 2008. Vornado had previously planned to develop a 630,000-square-foot office tower with MLB Network as an anchor tenant
"We were going to build the first office building in Harlem in 50 years on 125th Street and Park Avenue," said Joseph Macnow, chief financial officer, at an investor conference at the time.  "We've shut that project down. The economics are not warranted today to do that job."
Steven Roth, chief executive officer at the REIT, announced in a letter to shareholders filed with the Securities and Exchange Commission earlier this month that 2013 would likely involve more selling than buying.
"My belly tells me that prices are now higher than future prospects," Mr. Roth said in the letter.  "It also feels to me like interest rates will stay lower for longer than the pundits expect and that we are near the tipping point where market participants will start to believe and act as if it's their God-given right to zero-bound interest rates."