RKF Named Exclusive Leasing Agent for 365,000 SF South Street Seaport Retail
---
---
The Howard Hughes Corporation named a team from RKF the exclusive leasing agent and consultant on the recently approved South Street Seaport redevelopment.
RKF Chairman and CEO Robert K. Futterman, Executive Vice President Karen Bellantoni and Tess Jacoby will represent Hughes Corp. on this pivotal project, which will bring 365,000 square feet of retail, dining and entertainment space to a Seaport shellacked by Superstorm Sandy last fall.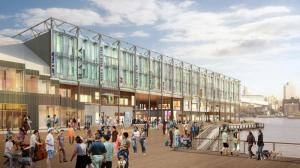 The City Council last month approved an overhaul of the Seaport that will include a complete redo of the Pier 17 building and add a rooftop music venue to the glassy replacement complex. Yesterday, the Landmarks Preservation Commission gave its just slightly qualified approval to the plan, which also calls for "distinctive" stores and increased open space.
"We are honored to have been chosen by The Howard Hughes Corporation to help transform the South Street Seaport and create the most vibrant retail and entertainment venue in Lower Manhattan," Mr. Futterman said in a prepared statement. "Our deep expertise with urban retail is perfectly matched for this assignment, and we're thrilled to play a key role in yet another historic opportunity."
Construction on the new Seaport will begin this fall. Developers hope to complete redevelopment in 2015.
Representatives from RKF could not immediately be reached for comment.