Disgraced State Senator Failed at Real Estate, Too
---
---
Who said there are no second acts in American life?
Following the arrest this morning of State Senator Malcolm Smith on federal bribery charges, the politician's former career as a real estate developer, which ended in bankruptcy, has come under the spotlight.
"Everything I did in business wasn't successful," Mr. Smith told The New York Times in 2008. "But you learn from things when you go through your challenges. You don't learn from doing everything right."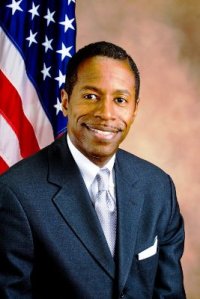 Mr. Smith, a Democrat, who served as president of the Neighborhood Housing Services of Jamaica before launching Smith Development Corporation in 1991, is alleged to have been part of scheme to appear on the Republican ticket for the New York City mayoral race.
The federal charges come more than a decade after Smith Development Corporation filed for bankruptcy. Smith Development spearheaded housing development in Southeastern Queens, Far Rockaway and Brooklyn. Although Mr. Smith's biography claims participation in the development of the Pathmark Plaza in Springfield Gardens, the developer on the project claimed Smith Development Corporation was not involved in any way.
Mr. Smith's development entity was bankrupt by 2000, according to The Times. Mr. Smith had been sued by a court-appointed trustee alleging he had diverted money owed to creditors into subsidiary companies he controlled, The Times reported. Mr. Smith settled the suit for $12,000. At the time of the report, Mr. Smith was in the process of closing a title insurance business he had been operating.
A New York real estate professional involved in the development of the Pathmark Plaza expressed shock at the recent allegations.
"In doing developments in Southeast Queens, our paths have crossed," the source, who has dealt with Mr. Smith as a politican, told The Commercial Observer. When asked if there was any indication Mr. Smith would do anything politically untoward, the source replied: "Just the opposite."
Despite dealing with Mr. Smith, the real estate source claimed to have no familiarity with the politician's real estate business. "I did not know he had a company called Smith Development [Corporation]," the source said.
Mr. Smith, 56, was elected to the State Sentate in 2000, representing Queens' 14th District and has served as both minority and majority leader in Albany. According to a statement from the U.S. Attorney and FBI, he has been accused of being involved in a large scheme to use cash bribes of more than $100,000 to secure his place on New York Republican Mayoral Ballot. As part of the scheme, Mr. Smith allegedly arranged for $40,000 to be paid to Vincent Tabone and Joseph Savino, two Republican county leaders.
"As alleged, Senator Malcolm Smith tried to bribe his way to a shot at Gracie Mansion – Smith drew up the game plan," Preet Bharara, Manhattan U.S. Attorney, said in the statement.