Colliers Tapped to Market Tribeca Properties
---
---
Colliers International has been tapped to market three separate properties in Tribeca at 377 Broadway, 249 Church Street and 108 Chambers Street. Each property has separate, private ownership, which was not disclosed.
"It's a very vibrant time for properties to be sold in Manhattan, especially in Tribeca," Charles Goldberg, senior managing director at Colliers, told The Commercial Observer.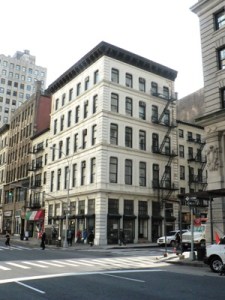 Colliers has received bids on 108 Chambers Street and 377 Broadway and is in early discussions regarding 249 Church Street. Mr. Goldberg declined to predict when the first two deals could potentially close.
"We're in no hurry, we want to develop the best possible pricing we can," he said.
Located at the corner of Broadway and White Street, the property at 377 Broadway offers approximately 15,000 square feet of retail condominium space across the ground, mezzanine and basement levels. Potential tenants for the property include an apparel company, a school or other institution, Mr. Goldberg said.
The property at 108 Chambers Street, a one-story retail building, is a development site which includes 2,000 square feet of existing retail and up to 14,000 square feet of buildable space.
"Combined with contiguous properties that could be a much larger development," Mr. Goldberg noted.
The three-level retail condo at 249 Church Street is available for sale includes 6,000 square feet. Located opposite 62 Leonard Street, the tallest property to be built in Tribeca, 249 Church Streets includes 14-foot-high ceilings and 85 feet of frontage.
"We are more wide open in terms of the purpose of use [for this property,]" Mr. Goldberg said. "It could be almost anything, really."
The properties are being marketed by Mr. Goldberg and Hank Widmaier, managing director, both of Colliers.