E-commerce Site Borderfree.com Extends and Expands in 22,226-SF Lease at 292 Madison
---
---
E-commerce company Borderfree.com (formerly Fifty-one Global E-Commerce) expanded and extended its lease for a total 22,226 square  at 292 Madison Avenue, The Commercial Observer has learned.
David L. Hoffmann, Jr. and Bryan Boisi of Cassidy Turley represented the tenant. William G. Cohen and Ryan Kass of Newmark Grubb Knight Frank represented the owner, identified as 292 Madison Avenue Leasehold LLC. Asking rent was in the high $40 to mid $50 a foot range, said Michael Reid, a principal at building manager Herald Square Properties.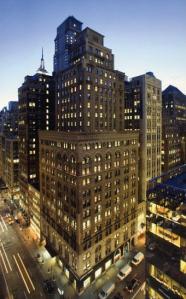 The transaction comes just shy of a year after Borderfree moved into prebuilt offices on the full 5th and 17th floors of the Midtown tower, which Marciano Investment Group purchased in full in 2011.
"The company initially took the large fifth and smaller 17th floors," Mr. Reid said of the   "rapidly growing" tenant. "Almost as soon as they moved in, the opportunity came for them to take the larger fourth floor, giving them contiguous floors." This seven-year lease expands Borderfree's footprint by about 5,100 square feet.
Since assuming full ownership, Marciano has focused on reeling in tech and new media firms to the building. "They're dedicated to transforming an old, somewhat tired building into a trendy, cool, upbeat state of the art-building," Mr. Reid said. "These tenants all seem to like the scarified concrete look and high ceilings, and they're 11 feet and up here."
Another of 292 Madison Avenue's strengths is its insistence on whole-floor leases. "We give our tenants a single-floor identity, which they like," Mr. Reid said. "They're not going to get lost on a big floor plate." He added that while the building courts relatively young firms, tenants are on solid financial footing.
"They're not going on burn rates," he said. "They're around to stay."