Subway Stop at Smith and 9th Streets in Brooklyn Reopens to the Delight of Most, Frustration of Others
---
---
In an age where the term "new subway" is something of an oxymoron in New York City, the world's tallest subway station is back in sparkling action today at Smith and 9th Streets in Brooklyn after a two-year hiatus and $32 million renovation.
The reopening of the station and a makeover — highlighted by shiny metal, crisp blue tiles, florescent lights and a maritime theme — elated most of the roughly 4,763 daily commuters who were cut off from the station when it was shuttered in May 2011.
"I'm so excited for this train station right now," one subway rider told NY1, while another rejoiced, adding, "The nightmare is over."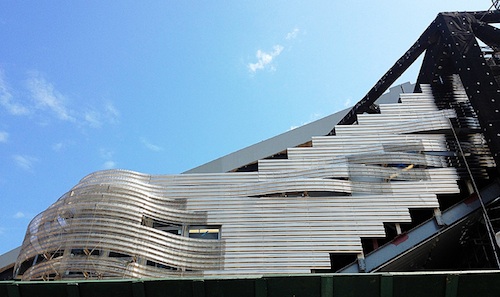 The makeover includes a new metal panel enclosure and lighting, two escalators, state-of-the-art public address and CCTV systems, and artwork by a local artist that incorporates elements of local maritime history, along with a new control house, refurbished agent booths, information center and waiting areas.
"We are very happy to return the Smith-9th Streets Station to the customers who rely on it, and to return subway service to these growing and thriving sections of Red Hook, Gowanus and Carroll Gardens," Acting Mass Transit Authority Chairman Fernando Ferrer said in a statement.
But some weren't happy at all – they were outraged – when they learned that the station is not handicapped accessible, with no wheelchair access.
Wheel-chair ridden local resident John Montalvo told Gothamist that he is worse off now than he was before the renovation – that he had "looked forward to the renovations" but was alarmed to find out that there is actually an extra set of stairs he will have to traverse to get into the station.
"[I'm] so fuc**ng pissed," he said.
MTA spokesman Kevin Ortiz told Gothamist that "structural issues… made it impossible to install an elevator" that would have complied with the Americans with Disabilities Act.
"The design for ADA elevators at this station was structurally unwieldy and financially prohibitive due to the station's layout," he said.  "There are ADA stations along the F line at Jay Street-MetroTech and Church Avenue."
A quick glance at a subway map, however, shows that the Jay Street station is three stops away from the Smith and 9th Street stop, while the Church Avenue stop is five stops away, which arguably wouldn't make things much easier for someone in a wheelchair.
First opened in 1933, along the summit of the Culver Viaduct, the station's 88-foot elevation was necessary to allow clearance for tall vessels passing on the Gowanus Canal below.  The height, while making the station unique, created additional challenges, the MTA said in a statement.
Red Hook artist Alyson Shotz created a series of artworks that glean the local maritime history of the surrounding Gowanus and Red Hook communities.  At the mezzanine level   are 26 windows, etched with silver reflective ink, each depicting a different historic nautical map – from the 1700's to the 1900's – that contrast with the modern waters behind them.
A historic plan of a boat hull, built in Brooklyn around 1770, is located at the station entrance on 9th Street, both an abstract drawing and a nod to the ship-building activity that once dominated the neighborhood; and a blue-tiled abstract line drawing depicting a 1779 nautical map of New York Harbor, created in stainless steel against blue tile, lines a rear wall.