Did 'Blue-Collar' Mets Settle For Less 'Glitzy' Long Island City Digs by Choice?
---
---
The New York Post reports that members of the New York Mets have "forsaken Yankee-style Manhattan condos" by renting units in two waterfront residential buildings in Long Island City.
The "blue-collar" Mets have decided "against glitzy Manhattan digs," with Jon Niese, Jordany Valdespin, John Buck and Justin Turner among the players renting at the Avalon Riverview buildings, the Post stated.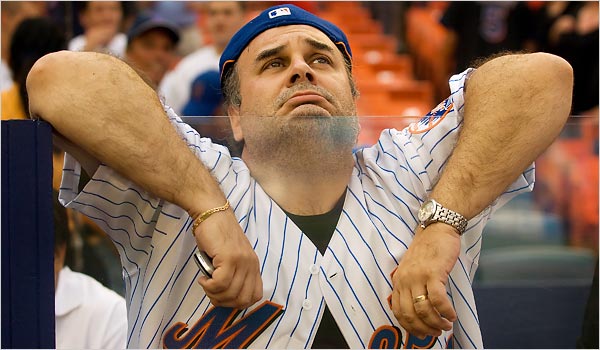 But whether or not that was a choice is a toss up given the salary discrepancies between the two teams.  The Post article compares the $2,200 to $6,000 per month rents at the buildings to the "white-shoe digs of their hated cross town rivals, like Derek Jeter."  Mr. Jeter sold his Trump World Tower penthouse for $15.5 million and Alex Rodriguez pays $18,900 per month for his apartment, the Post noted.
But the two players also pull in some of the highest salaries in baseball, at $16 million and $29 million last year, respectively.  By comparison, Mr. Neise, 26, young and early in his career, made a measly $769,500 last year.
Thanks to Mr. Jeter and Mr. Rodriguez, the New York Yankees were the highest paid team in baseball last year, with an average salary of $ 6.2 million, according to USA Today, compared to a Mets average salary of $3.5 million.
Either way, the Long Island City digs are no dump, boasting panoramic Manhattan views, a ninth-floor pool, a rooftop garden with barbecue grills, a 24-hour concierge and a gym.  And the Mets' stay in Long Island City is perhaps a testament to the quality of life that developers like Rockrose and TF Cornerstone have been preaching for years in a neighborhood that finds itself at the center of the city's most promising building boom.
"Being in Long Island City is a lot easier because we're not in Manhattan so it's not crazy, but at the same time, we still have the city life one subway stop away," Mr. Niese's wife, Leah Niese, told the Post.
The neighborhood's makeover from industrial wasteland to a viable alternative to Manhattan was paved by a 2001 residential rezoning that led the pioneering developers to build multiple residential towers along Long Island City's waterfront.
"The idea is that this is not West Queens—it's the East Coast of Manhattan," TF Cornerstone's chairman, Tom Elghanayan, told The Commercial Observer last month. "We appeal to the same market as the high-end clientele of Manhattan."
Ms. Neise also told the Post that her "posse" also includes the significant others of Dillon Gee, Bobby Parnell, Tori Murphy, Daniel Murphy, Frank Francisco, Mike Baxter and David Wright.
"To keep looking great," Mets Manager Terry Collins, who also lives in the buildings, frequents Emily Salon and Spa – as do the players' wives – where manicures are $15, a leg wax is $50, and a men's haircut starts at $30, the Post said.
Alex Rodriguez
,
Avalon Riverview
,
Bobby Parnell
,
Daniel Murphy
,
David Wright
,
Derek Jeter
,
Dillon Gee
,
Emily Salon and Spa
,
Frank Francisco
,
John Buck
,
Jon Niese
,
Jordany Valdespin
,
Justin Turner
,
Leah Niese
,
Mike Baxter
,
New York Mets
,
Rockrose Development
,
Terry Collins
,
TF Cornerstone
,
Tom Elghanayan
,
Tori Murphy
,
trump world tower