AT&T Wireless to Open "World Store" at 250 West 57th Street
---
---
AT&T Wireless has signed a 10-year lease for 3,797 square feet on the ground floor of W&H Properties' 250 West 57th Street. The space has been earmarked for the wireless telecommunications company's "World Store." Starting rent for the lease is $350 per square foot.
"There aren't very many boxes like this, it's a terrific configuration for [AT&T Wireless]," Anthony Malkin, president of Malkin Holdings LLC, which supervises W&H Properties, told The Commercial Observer.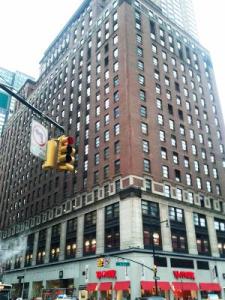 AT&T Wireless will occupy the space during the third quarter of this year following a build out. The newly-leased space is located between T.J. Maxx and an adjacent available 7,591-square-foot space.
"[This lease] reflects the continued reworking of all of our retail assets," Mr. Malkin noted.
W&H Properties is currently evaluating a number of potential tenants for the property's available space. "We are looking at a bunch of different concepts, but we have to find a concept we like at a rent we like," Mr. Malkin said. W&H Properties will not consider food tenants, he added.
"The location is a retailer's dream, with a large built-in customer base of office workers and residents that is destined to become even larger," Mr. Malkin added in a prepared statement.
As reported by The Commercial Observer, the Perseus Book Group, publisher of The New York Times best-seller Skinny Bitch, signed a lease last year for the 26,104-square-foot 15th floor of 250 West 57th Street. The publishing company had previously occupied a 6,800-square-foot space in the building.
Steve Baker of Winick Realty represented AT&T Wireless in the transaction. Joanne Podell and Ian Lerner of Cushman & Wakefield (CWK) represented the landlord.
250 West 57th Street
,
Anthony Malkin
,
AT&T Wireless
,
ian lerner
,
Joanne Podell
,
malkin holdings
,
Perseus Book Group
,
Steven Baker
,
T.J. Maxx
,
w&h properties
,
winick realty
,
Cushman & Wakefield