Savanna Welcomes Mobotix to 80 Broad Street
---
---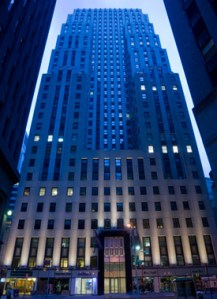 German-based Mobotix Corp. will be leaving its office at 415 Madison Avenue and moving downtown to Savanna's 80 Broad Street, officials told The Commercial Observer.
Enlisting the help of CBRE's David Young and Scott Sloves as brokers, the leading video security software company will take a 7,840-square-foot space on the seventh floor of 80 Broad Street.
Savanna was represented in the transaction by an exclusive leasing team from Newmark Grubb Knight Frank consisting of Hal Stein, Adam Leshowitz and Todd Stracci. The team also negotiated a lease for the Foundation Fighting Blindness where it took 3,345 square feet on the 33rd floor of the building.
Both leases were set for a seven year term.
"Savanna remains dedicated to strengthening our properties against future weather-related events," said Brian Reiver, director of leasing at Savanna. "Our priority is to continue offering our tenants premier office space in buildings throughout our portfolio."
"In addition, 80 Broad is in an excellent location (conveniently located adjacent to several major transportation hubs) and offers modern amenities and systems while maintaining its historic charm," Mr. Reiver added. "The building was constructed in 1930 and many original design details remain intact. Savanna has recently made a major investment to modernize the building. Savanna is also rolling out a prebuilt space program as part of 80 Broad's marketing and leasing efforts."
The building, located between Stone and Beaver streets, spans 36 stories and 420,000 square feet. The property is one of many in Savanna's downtown-focused portfolio alongside 5 Hanover Street, 44 Wall Street, 110 William Street and neighboring 90 Broad Street.