Which 3 Submarkets Have Surpassed 2007 Asking Rents?
---
---
Flash back to the year 2007: Manhattan real estate was red-hot, and asking rental rates were at all-time highs across all 19 submarkets tracked by Cassidy Turley.
But then the financial world collapsed, and real estate quickly followed. Instead of a long, drawn-out down cycle, the market showed resilience and began to bounce back in 2010. Since that time, though, only three out of the 19 submarkets' current overall average asking rents have surpassed those historical highs from 2007, with nine of the submarkets still 10 to 25 percent off those numbers.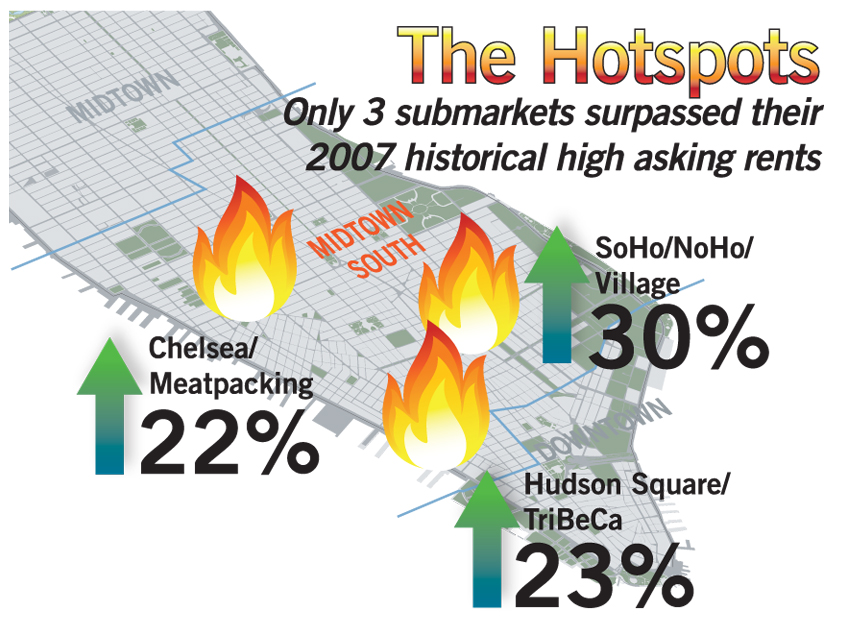 It is no surprise that the three prospering submarkets are in Midtown South, which has led this recovery on the demand of the TAMI (tech, advertising, media and information services) sector.
The Soho/Noho/Village submarket led all of them with a 30 percent increase, from $52.29 per square foot in 2007 to $67.78 in 2013.
The Hudson Square/Tribeca submarket saw a 23 percent increase from $47.18 per square foot in 2007 to $57.87 in 2013.
And the Chelsea/Meatpacking submarket experienced a 22 percent increase from $42.46 per square foot in 2007 to $51.51 in 2013. The two other submarkets in Midtown South are not far behind; Madison Square/Park Avenue South and Flatiron/Union Square are both just off their historical highs, with 2 percent and 1 percent declines, respectively.
So what is with the other lagging submarkets? Well, for one thing, the slow demand for Class A space has led to negative absorption in the Class A supply and kept rents relatively flat the past few months. This has directly affected the Midtown submarkets.
The Sixth Avenue/Rock Center submarket is the furthest from its historical high asking rents, down 23 percent from 2007, followed by Grand Central, where asking rents are 18 percent off 2007 numbers. It is no surprise that these two submarkets have some of the highest availability rates in Manhattan, at 14.6 percent and 14.1 percent, respectively.

Richard Persichetti is the vice president of research, marketing and consulting at Cassidy Turley, with 14 years of NYC research experience.