Where the Mayoral Candidates Stand
---
---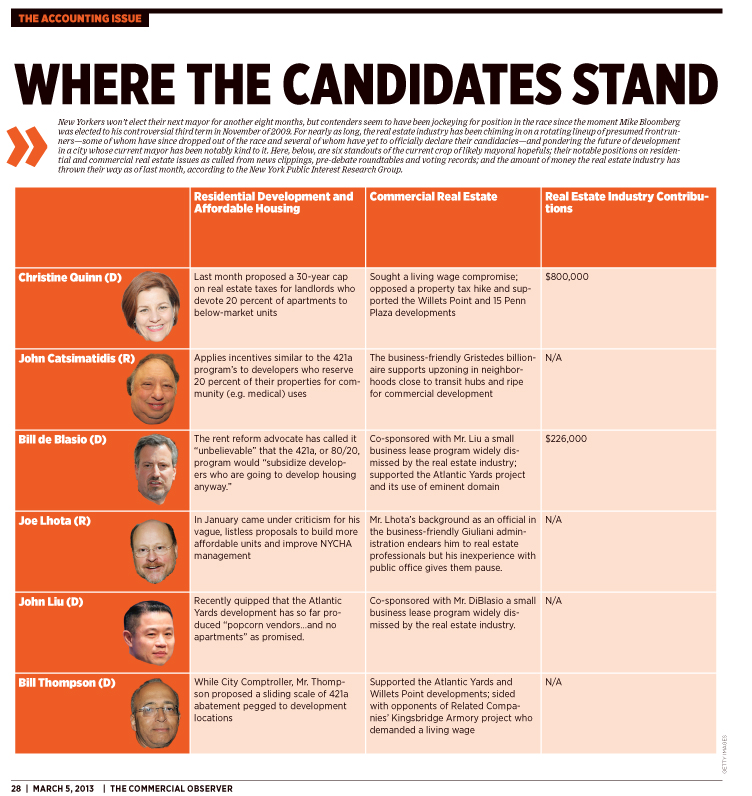 New Yorkers won't elect their next mayor for another eight months, but contenders seem to have been jockeying for position in the race since the moment Mike Bloomberg was elected to his controversial third term in November of 2009.
For nearly as long, the real estate industry has been chiming in on a rotating lineup of presumed frontrunners—some of whom have since dropped out of the race and several of whom have yet to officially declare their candidacies—and pondering the future of development in a city whose current mayor has been notably kind to it.
Here, below, are six standouts of the current crop of likely mayoral hopefuls; their notable positions on residential and commercial real estate issues as culled from news clippings, pre-debate roundtables and voting records; and the amount of money the real estate industry has thrown their way as of last month, according to the New York Public Interest Research Group.
[scribd id=128722544 key=key-1g0ptayo70zudr9nnkmh mode=scroll]