Waterfront Hamptons Restaurant Property Hits Market, Could Go Residential
---
---
A 9.3-acre waterfront property at 94 Dune Road in East Quogue, New York is on the market for $13.5 million.
Michael Passaro of Trump International Realty is the listing agent. For 25 years the lot has been home to Dockers Waterside, a roughly 3,500-square-foot, 300-person capacity restaurant. Dockers will reopen for the season this weekend, but potential buyers can consider an array of redevelopment options for the parcel with striking views of Shinnecock Bay.
Dockers–a favorite of  the actress Jessica Biel–is still popular, but Mr. Passaro pointed out that the owners are getting older.
"The property is currently zoned residential, but because the restaurant has been there so long it was sort of grandfathered in," Mr. Passaro said. "What makes it unique is that the buyer, depending on who he is, can continue to run it as Dockers or turn it into a residential property."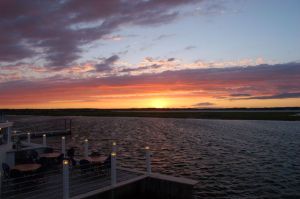 Mr. Passaro added that while residential redevelopment possibilities include a huge single-family home, "probably the best outcome would be building 12 to 14 townhouses," an arrangement the current owners have investigated. This route, however, would require zoning board approval.
"I think the best scenario would be to buy the restaurant and operate it as you worked through the approval process," Mr. Passaro said. "Or to buy the restaurant and rent it out as the zoning process unfolded." Mr. Passaro estimated that the approval process would take two or three years.
Yet another potential use for 94 Dune Road would be as a yacht club. The town recently granted the property permission to add 17 boat slips.
Whatever becomes of the Dockers space, its views and the privacy  it affords will not be impeded. The property is surrounded by more than 40 acres of protected wetlands. That should also help maintain the relatively mellow and family-friendly vibe of East Quogue.
"This restaurant is probably five to seven miles from the town of Southampton," Mr. Passaro said. Quogue is a nice town–it's nicer than Westhampton and probably just below Southampton, Water Mill and East Hampton. But it's still very family-oriented. It's a little closer to Manhattan. Plus, you're a sand wedge from the ocean"
That location should appeal to buyers around, and well outside of, the Hamptons. "One other thing that's interesting is that the owners are maybe looking more internationally when listing," Mr. Passaro said. "These guys have been out here for 25 years and know the major players. They decided to go with Trump because they're after a bigger pool of investors. A lot of people overseas are looking to purchase in Manhattan and the Hamptons." (Donald Trump is the father-in-law of Jared Kushner, president of Kushner Companies, which owns The Commercial Observer.)