Two Trees Proposal For Domino Sugar Site Triples Office Space in B'Burg
---
---
Renderings for the site of the former Domino Sugar Factory on the Williamsburg waterfront were released earlier today. As part of the plan for the site, the area will house between 3,000 and 4,000 office workers, tripling the amount of office space in an otherwise sparse commercial district.
The Two Trees Management proposal, designed by SHoP Architects, calls for 631,240 square feet of office space, up from the less than 100,000 square feet proposed by original developers CPC.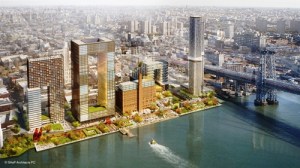 When Two Trees closed on its acquisition of the site in October 2012, the lack of office space was glaring on initial review, according to David Lombino, director of special projects. "There was a lot of residential density and a token office element," he told The Commercial Observer.
Two Trees' success in DUMBO was motivation to add office space in Williamsburg. "We've seen first hand how office space for creative class workers has the ability to energize a neighborhood and transform it to something that is active and exciting 24/7," Mr. Lombino said.
Another part of the original proposal earmarked for improvement was outdoor space. In total, the proposal's public open space will span 227,919 square feet.
"Williamsburg is an area starved for open, green space," Mr. Lombino said.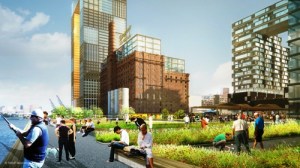 The proposal includes plans for Domino Square, which is a higher-quality and more programmable piece of parkland, Mr. Lombino noted. The developers also plan to take River Street, which dead-ends at Grand Street, drag it through the site and connect it, breaking up a superblock and creating a street grid. "We will pull the footprints back from the water and create additional open space," Mr. Lombino said.
Two Trees officials hope to certify the proposal via the Uniform Land Use Review Procedure starting in May or June, and they hope to gain approval before year's end.
"We could break ground next year on the upland site which sits east of Kent [Avenue] on a residential building," Mr. Lombino said. The building could be up to 50 percent affordable, he added.