REBNY Announces Ingenious Deal Award Nominees, Newmark and CBRE Dominate List
---
---
The Real Estate Board of New York today released the nominees for this year's Most Ingenious Deal of the Year awards. Board president Steve Spinola said that REBNY had received 19 "very interesting" submissions for the 2013 honors. "As the number of submissions grows, the brokers continue to raise the bar," Mr. Spinola said in a prepared statement.
Submissions are broken into sales, lease and finance categories. One thing that jumps out about the contending sales and lease deals is the number of brokers from CBRE (CBRE) and Newmark (NMRK) Grubb Knight Frank: eight of the 14 submissions come from the two firms. First, second and third place prize winners will be announced on April 23 at the 101 Club.
See the sales and lease nominees below.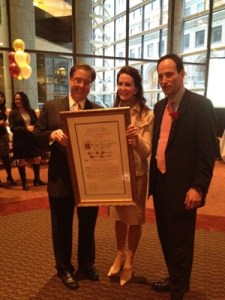 SALES
Property: 20 East End Avenue
Firm: Studley
Brokers: Ira Schuman, Daniel O. Horowitz, David Carlos
Property: 88 Leonard Street
Firm: Cushman & Wakefield
Brokers: Helen Hwang, Nat Rockett
Property: 3 Columbus Circle
Firm: CBRE
Brokers: Mary Ann Tighe, Gregory Tosko
Property: 144 Spring Street
Firm: Sinvin Realty
Brokers: Christopher Owles
Property: 525 Broadway
Firm: ABS Partners Real Estate
Brokers: Alan S. Cohen, Gregg L. Schenker
LEASES
Property: 101 Avenue of the Americas
Firm: NGKF
Brokers: Bill Harvey, Daniel Segal
Property: 1301 Avenue of the Americas
Firm: NGKF
Brokers: Moshe Sukenik, Barry Gosin, Chris Mongeluzo
Property: 11 Times Square
Firm: Jones Lang LaSalle
Brokers: Mitchell Konsker, Paul Glickman, Matthew Astrachan
Property: 33 Beekman Street
Firm: NGKF
Brokers: David A. Falk, Kyle J. Ciminelli
Properties: 200 Hudson Street, 205 Hudson Street, 200 Madison Avenue
Firm: NGKF
Brokers: David A. Falk, Jason T. Greenstein, Frank Kajon
Property: One New York Plaza
Firm: NGKF
Brokers: Barry M. Gosin, Brian S. Waterman, & Romel Canete
Property: 1515 Broadway
Firm: CBRE
Brokers: Michael R. Laginestra, Scott L. Gottlieb, Andrew J. Sussman
Property: 7 Times Square
Firm: CBRE
Brokers: Ben Friedland, Silvio Petriello
Property: One New York Plaza
Firm: Brookfield Properties
Brokers: Duncan McCuaig