Real Estate Firm TGM Associates Renews at 650 Fifth Avenue
---
---
TGM Associates, a New York-based investment advisory firm focused on multifamily properties, has renewed its 11,280 square-foot lease at 650 Fifth Avenue, The Commercial Observer has learned.
The firm takes the entire 28th floor of the 36-story, 382,500-square-foot office building located in the Plaza District on 52nd Street, on the northern edge of Rockefeller Center.
"The fact that an entity immersed in the real estate industry has continued its commitment in this building speaks volumes about the ownership and the manner in which business is conducted at 650 Fifth Avenue," said CBRE (CBRE)'s Paul Haskin, who represented the landlord, 650 Fifth Avenue Company, with Robert Stillman and Zachary Freeman.  CBRE is the exclusive office leasing agent and property manager at the building.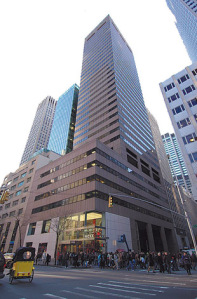 The deal is the second major lease renewal for the property since the beginning of the year, when Korea-based financial institution Hana Bank signed a 10-year, 7,318 square-foot renewal on the 15th floor at 650 Fifth Avenue.
The property recently underwent an $11 million lobby renovation, completed in July, and ownership is budgeting to improve the common areas on each of the floors and upgrade security systems as the leasing efforts ramp up, Mr. Haskin said.
Floor plates below the 8th floor measure roughly 16,000 square feet, while those above it measure roughly 11,000 square feet (floor eight holds mechanical equipment).
The building, located along the Fifth Avenue retail corridor, is home to a number of international banks – Sanin-Godo Bank, Sterling Bank and Delta Bankamong them – as well as the Doris Duke Charitable Foundation and the offices of fashion designer Joseph Abboud.
"We remain committed to retaining our tenant roster at 650 Fifth Avenue and we are pleased to have negotiated a mutually beneficial lease extension with TGM Associates," said Dr. Houshang Ahmadi, president of the not-for-profit Alavi Foundation, the majority owner and managing partner of 650 Fifth Avenue Company, in a statement.  "This latest transaction with TGM Associates is a testament to the strong relationship we have built together and we are excited to enter into another ten year partnership."
"We also look forward to a continued leasing momentum in the coming months as interest in the property is strong, particularly due to our recent extensive capital improvement program," he added.
Michael Goldman and Dan Posey at Studley represented the tenant.  The brokers did not return calls seeking comment in time for publication.
650 Fifth Avenue
,
Alavi Foundation
,
Dan Posey
,
Dr. Houshang Ahmadi
,
Michael Goldman
,
Paul Haskin
,
Robert Stillman
,
Rockefeller Center
,
Studley
,
TGM Associates
,
Zachary Freeman
,
650 Fifth Avenue
,
CBRE