Sandy Zuckerbrot, The Lion of Long Island City, On Its Past and Future
---
---
With a wealth of experience across industrial, retail and investment real estate, Sandy Zuckerbrot of Sholom & Zuckerbrot LLC has seen Long Island City and the rest of New York transform along with his own business. Boasting a portfolio of 1.5 million square feet occupied by tenants including Walmart, CVS, the United States government and Home Depot, the 76-year-old real estate veteran spoke with The Commercial Observer last week about the history of his 50-year-old, family-owned company, the transformation of Long Island City and a proposal to change its name to LIC.
The Commercial Observer: Give us some background on Sholom & Zuckerbrot?
Mr. Zuckerbrot: I am a co-founder of the company, which started 7/11/62, which is our good luck number. The company was initially started by two people, [myself] and Ronald Sholom, and we were partners for 33 years. We built up a company of six offices. We had offices in Long Island City, Garden City, N.Y., Manhattan at the Flatiron Building, in Hasbrouck Heights, N.J., Edison, N.J., and Parsippany, N.J. For many, many years we ran this very, very successfully, and we built up a staff of 150 sales reps and support staff.
What areas did you focus on early on?
The area of specialty, when we first started our business, was industrial real estate, and the first office we opened was in Long Island City—and in those days Long Island City was a very heavy-duty, smokestack-type industry city. So you had every conceivable type of operation.
In the early days, many, many companies in lower Manhattan were being pushed out because of the inadequate operations, terrible elevator facilities, and the difficulty moving inventory in and out. Because of the limited access they had, we were looking for more attractive facilities, and Long Island City offered the one-story building, high ceiling, easy loading. It was very costly for companies to operate in multistory buildings in Manhattan. Manhattan was a feeder to Long Island City.
As time went on, Long Island City was getting reasonably inundated with these operations, and soon we started to see New Jersey as being a feeder and started to bring companies from Manhattan to New Jersey and Long Island City.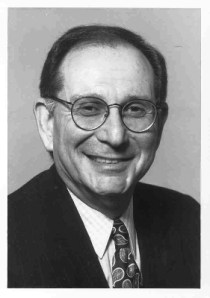 And then you added another focus?
That was our initial imprint in the market, handling all the industrial. As time evolved, we started to see there was a higher and better use for all of these properties. Bear in mind that as time goes on, all the available land starts to get built upon and all of a sudden you don't have land anymore.
We were looking at higher and better use, and we were starting to get a lot of retail requirements coming in—we were starting to then take industrial facilities and turn them into retail centers either for single-tenant or for a strip-center-type operation. We developed, in addition to our industrial base, we developed, both in New York and New Jersey, very successful retail departments. To this date, we are very, very successful in doing that.
Could you describe, given your experience in the Long Island City area, the transformation of the area?
Given from where I started in 1957, it's been quite a transformation.
Long Island City was one-dimensional when I started, which was just heavy-duty industry. Today, which is very exciting, you still have the ability to have industry, not heavy-duty anymore but many types of industries. More of the assembly-type operations, high-tech operations. In conjunction with that, we have office and medical that have come into Long Island City. We have the best of all worlds. We have an area that caters to both business and residents and many people can walk to work. Long Island City has all the subway lines right at its doorstep, and we have bridges and tunnels. It's easier to get to the East Side of Manhattan from Long Island City than to get to the East Side from the West Side. You know what they say: Manhattan is six miles long and six hours wide. That's the truth.
We are very excited about the development of Long Island City today, and I think it has completed its first phase and people are going to see a second phase and a third phase.
What do you think we will see in those second and third phases?
Additional residential, and I might also add—the one thing we never had here—we have a number of motels and hotels that have been built in Long Island City as well.