Morgan Stanley Provides $275 M. for Milford Plaza Hotel Buy
---
---
Morgan Stanley has provided a $275 million loan to finance the acquisition of the Milford Plaza Hotel, sources told The Mortgage Observer. The 10-year loan has an interest rate under 3.5 percent, according to sources familiar with the deal, and will be securitized.
As previously reported, Deutsche Asset & Wealth Management's real estate investment business and real estate investor David Werner acquired the leased fee interest from Rockpoint Group and hotel operator Highgate Hotels for $325 million. The sellers will continue to own and operate the hotel.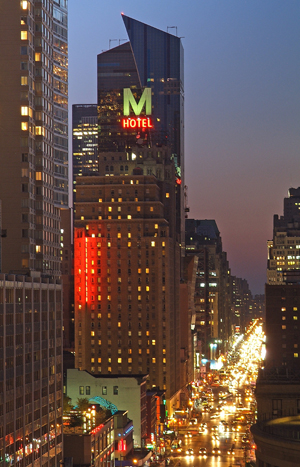 Rockpoint Group and Highgate Hotels bought the Milford Plaza Hotel for $200 million in 2010, according to public records. They have upgraded the rooms and the common areas. Last month, The Wall Street Journal reported that that the two entities were planning to sell the property in three parts—the ground lease, the 1,300-room hotel and the property's retail space—for an expected $650 million.
Located at 700 Eighth Avenue between 44th and 45th Streets in the heart of the Theater District, the hotel was built in 1928. At the time, according to the hotel's web site, it was the largest hotel in New York. With 1,300 rooms, it still remains among the largest Manhattan hotels today.
"We are pleased to add this high-quality investment to our client's portfolio," said Todd Henderson, Head of Real Estate, Americas at Deutsche Asset & Wealth Management, in a prepared statement. "Acquiring the leased fee interest in a prime New York City location is expected to provide strong and durable long-term returns."
Meridian Capital Group Managing Director, Abe Hirsch and Managing Director and Head of Equity Capital Markets Peter Steier negotiated the financing along with representatives of Eastdil Secured.
apirolo@observer.com