Ashkenazy Investments Pays $6 M. for Yeshiva Retail Property
---
---
Yeshiva University has sold off the final lot of a building portfolio that it received as a gift then aggressively marketed, pulling in $2 million more than the original asking price and demonstrating the heavy demand for retail in the Lower East Side.
The Commercial Observer has learned that Ben Ashkenazy of Ashkenazy Investments paid $6 million for the corner retail building at 156-164 Delancey Street, on the northwest corner of Delancey Street and Clinton Street, which was originally on the market by for $3.95 million.
The building currently consists of six commercial units, five of which are occupied with leases that expire between 2016 and 2021, and it was marketed based on its redevelopment potential.
"Retail properties like this are in extraordinarily high demand today," said Massey Knakal Chairman Bob Knakal, who exclusively handled the transaction with Michael DeCheser.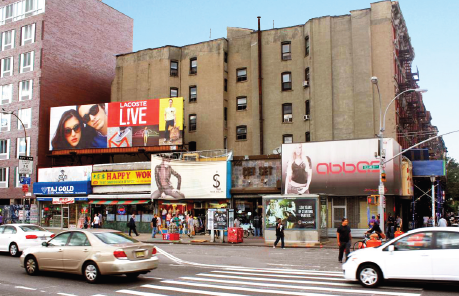 The current income generated by the five current tenants (plus a projection for the sixth and additional rooftop advertising) brings the annual income at the property to roughly $300,000, before expenses cut that by roughly one-third.
But Mr. Knakal said that substantial upside exists in a majority of the spaces.  In addition, the current, single-story building is roughly 14,715 square feet, but, as a future development site, it includes nearly 12,000 square feet in additional air rights.
"With some repositioning, this asset can produce much more cash flow than it does today," he said.
The property is adjacent to the Manhattan entrance of the Williamsburg Bridge and across the street from the Seward Park parcels that were recently approved by Community Board 3 as part of the Seward Park Urban Renewal Area.
The current tenants are Tawfik Kabaret, New Happy Joy Kitchen, Sneak Jean, Inc., Get Set on Delancey Inc. and Yuk Chun Kan.
Earlier this month, Yeshiva University sold two Midtown Manhattan office properties for $29 million to ClearRock Properties and Juster Properties.
Last month, the school sold a portfolio of three office buildings for $87.5 million and in November it sold off a lecture hall at 237-241 East 34th Street in Murray Hill for $15.5 million, as reported by The Commercial Observer.
156-164 Delancey Street
,
Ashkenazy Investments
,
Ben Ashkenazy
,
Bob Knakal
,
Get Set on Delancey Inc.
,
Inc.
,
Massey Knakal Realty Services
,
Michael DeCheser
,
New Happy Joy Kitchen
,
Seward Park Urban Renewal Area
,
Sneak Jean
,
Tawfik Kabaret
,
yeshiva university
,
Yuk Chun Kan