Another Setback for Joe Chetrit at Chelsea Hotel: Speaker Quinn Alleges Tenant Harassment
---
---
The Department of Buildings ordered Joseph Chetrit to stop work at the Chelsea Hotel on Friday night, one day after City Council Speaker Christine Quinn sent a scathing letter asking the developer to do so, The Real Deal reports.
The order, the latest of a series of setbacks at the property, followed complaints from tenants that heat and gas service had been shut off at the site, leading DOB inspectors, a range of other city organizations and ConEdison to visit the site on Friday.
"HPD will be issuing violations for no heat and hot water and no gas as these conditions have not yet been addressed by ownership," one city official told The Real Deal.
Once a mecca for bohemians, artists, writers and musicians, from Bob Dylan to Charles Bukowski to Iggy Pop, the famed "hotel" undergoes its own transformation, to the chagrin of some.
Ms. Quinn, in her letter, recalled the outstanding violation against Mr. Chetrit that was issued after construction workers broke through a tenant's ceiling.
"You must stop this blatant harassment of your tenants," Quinn wrote.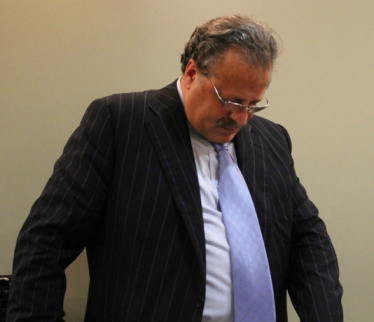 Plumbers accidentally knocked out gas when doing work without prior authorization and gas would not be restored until Mr. Chetrit takes "several additional steps" to improve conditions, ConEdison told The Real Deal; and an attorney representing tenants in a lawsuit over the conditions plans to head back into court next week to file a contempt motion against the owners.
Mr. Chetrit filed his own $4.15 million lawsuit earlier this month in the State Supreme Court against the property's former ownership group, alleging that the group "deliberately lied" about the status of tenants and deceived him into believing that valuable artwork – and a "closet" – on the premises was included as part of his purchase of the property in 2011, Curbed reported.
"Had plaintiff known of defendants' fraud regarding the artwork and apartment units, plaintiff never would have paid $78.5 million for the purchase of the Chelsea Hotel," the lawsuit states, calling the actions "outrageous, fraudulent, shocking."
After ownership changed hands, artists and their beneficiaries – including the widow of Arthur Alan Weinstein, the Larry Rivers Foundation and artist Philip Taaffe himself – knocked on Mr. Chetrit's door asking for the artwork back, with Mr. Weinstein's widow alone claiming 22 pieces worth up to $500,000, the lawsuit alleges.
Despite the hardships, Mr. Chetrit is in the midst of a buying spree. City records last week confirmed Joe Chetrit and David Bistricer's $1.1 billion closing on the Sony Building.   
Arthur Alan Weinstein
,
Bob Dylan
,
Charles Bukowski
,
Chelsea Hotel
,
Christine Quinn
,
ConEdison
,
Department of Buildings
,
Iggy Pop
,
Joseph Chetrit
,
Larry Rivers Foundation
,
Philip Taaffe