ITV Studios Expands at 609 Greenwich Street
---
---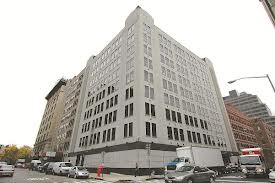 ITV Studios will be expanding its presence in Hudson Square.
ITV Studios will be taking half of the fourth floor of Centaur Properties-owned 609 Greenwich Street, adding 7,000 square feet to its presence. The firm currently operates out of the ninth floor of the building.
"The motivation was expansion," said Nicholas Farmakis, a managing director of Studley and representative on the transaction. "There is significantly more TV content being produced in New York City currently and the primarily function of this space is production [and] editing."
The space features a side-core, open plan with large windows and high ceilings, Mr. Farmakis said.
"609 Greenwich is located in a film [and] media-orientated building and neighborhood. There are a number of film, post-production [and] editing tenants in the immediate corner of Hudson Square," said Mr. Farmakis. The building includes several tenants itself including Grenada Television and Greenstreet Films.
"The general theme here is ITV Studios is taking advantage of the fact that production in New York is experiencing a boom in activity," he added. "This transaction allowed ITV to retain its investment in its current space while expanding to house additional staff and outside productions within their facility."
Mr. Farmakis represented ITV Studios in the transaction while Daniel Levine of Newmark Grubb Knight Frank represented the landlord, Centaur Properties, a firm operated by the real estate investors Harlan Berger and Henry Hay.
In addition of 609 Greenwich Street, Centaur Properties owns 305 West 16th Street, 530 West 17th Street, 76 Madison Avenue, and a sew of retail and residential properties on Spring Street and West Broadway.