Research Firm Cognolink Inks at 411 Fifth Avenue
---
---
Cognolink has made another connection at 411 Fifth Avenue, a.k.a. The Fashion Accessories Center, where the firm has signed an eight-year, 5,600-square-foot lease, The Commercial Observer has learned.
The research firm, which connects business professionals across various industries, takes the 10th floor in the 11-story building as part of its expansion and relocation from its previous location just around the corner at 35 West 36th Street.
"They liked the neighborhood and they wanted to stay in the same location because it's convenient to their employees," said Evan Margolin of Studley, who represented the tenant and was promoted to senior managing director at the firm last summer, adding that the firm doubles its space with the transaction.  "It has a wide open loft-style feel – it's open, bright and great for a collaborative environment."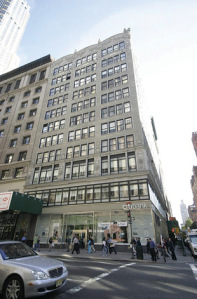 The 110,000-square-foot building, designed in 1915 by New York firm Warren & Wetmore, features a mix of accessory show rooms and insurance companies, with E. Gluck Corp., Armitron, Bollman Hat Company and Citibank.
"Fifth Avenue continues to see strong demand from all kinds of commercial tenants," said David Levy, principal of Adams & Co., who represented the landlord, 411 Fifth Avenue Associates, and noted the influx of hotels and restaurants that continues to keep the area a premier destination.  "The Fashion Accessories Center is seeing a greater number of diversified tenants expressing interest in the buildings professional environment."
"They liked the space and they had great financials," he added.
Asking rents were $42 per square foot.
Founded in 2007, Cognolink is an independent research firm that manages a global network of industry specialists — that include business executives, politicians, industry consultants, lawyers, accountants, doctors and academics — for consultations with hedge funds, mutual funds, private equity firms and the like.
35 West 36th Street
,
411 Fifth Avenue
,
411 Fifth Avenue Associates
,
Adams & Co.
,
Armitron
,
Bollman Hat Company
,
Citibank
,
Cognolink
,
David Levy
,
E. Gluck Corp.
,
Evan Margolin
,
Fashion Accessories Center
,
Warren & Wetmore