Law Firm Follows Flock to Broad Street Development's 61 Broadway
---
---
Law firm Rosner Nocera & Ragone, LLP's signing of a 8,135-square-foot lease at 61 Broadway is the latest in a wave of leases at Broad Street Development's properties.
Founded by Raymond Chalmé and Daniel Blanco, Broad Street Development has wrapped up 54,000 square feet of new leases and renewals at 55 and 61 Broadway, located in the heart of the Financial District, and which the firm bought in 2004 and 2006, according to the New York Post.
Three of the resent signings at 61 Broadway, including MT2 Network, Rosner Nocera & Ragone and Vincenti & Vincenti, left Sandy-damaged buildings for the property and Mr. Chalmé said asking rents are in the $30s at the building, according to the Post.
"You read a lot about the bigger deals, but the smaller-tenant market's alive and well," he said.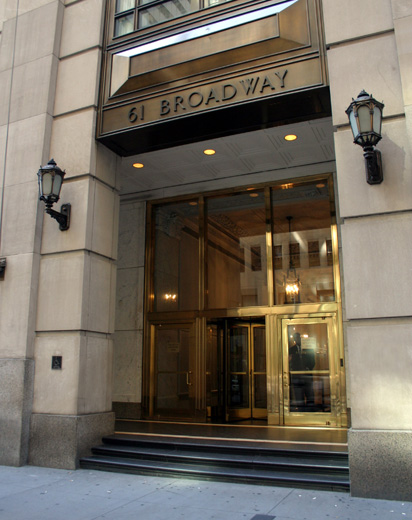 Frank Cento of Cushman & Wakefield represented the law firm, but was unable to comment in time for publication as he ran out to show a client another space.  David Israni, Ramona Huegel, and Daniel Blanco of Broad Street Development represented the landlord, but messages left for the brokers were not returned by press time.
The 700,000-square-foot property at 61 Broadway, on the corner of Broadway and Exchange Alley and built in 1916, is a Pre-War Class B property and it offers a Building Conference Center as an amenity to its tenants at no cost.
The building attracts users, ranging from law firms to financial institutions to not-for-profit organizations.
Broad Street plans to erect a retail glass box at neighboring 55 Broadway, the Post noted, a plan which required approval through the city's ULURP process because it involved the redesign of a "poorly designed pedestrian plaza." It will offer up to 11,000 square feet and can be combined with 20,000 square feet more on the second floor.
55 Broadway
,
61 Broadway
,
Broad Street Development
,
Cushman & Wakefield
,
Daniel Blanco
,
david israni
,
Frank Cento
,
LLP
,
MT2 Network
,
Ramona Huegel
,
Raymond Chalmé
,
Rosner Nocera & Ragone
,
Vincenti & Vincenti