Head of the Class: Teachers Retirement Fund TIAA-CREF Making Waves in New York
---
---
Though not a traditional owner-operator, TIAA-CREF has begun to draw the attention of the real estate industry in recent months for a bevy of deals, including its acquisition of a stake in the Frank Gehry-designed building at 8 Spruce Street and a joint venture with Norges Bank Investment Management.
The asset management firm's steady persistence in the real estate market during the downturn has led to a realization of gains, and recent deals could lead to the redeployment of capital in key markets going forward, said analysts familiar with the firm's strategy going into 2013.
"TIAA is one of the investors that was pretty active in the depths of the market in 2009 and 2010, and some of those investments have turned into significant home runs," said Dan Fasulo, managing director and head of research at Real Capital Analytics.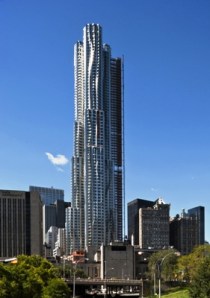 The most conspicuous among TIAA-CREF's recent real estate deals occurred in December, when the firm snatched a headline-grabbing 49 percent stake in 8 Spruce Street, otherwise known as New York by Gehry, for a reported $250 million. With that investment, the building, and in turn the firm, made history for its valuation of $1.05 billion, the largest ever for a U.S. residential property.
Despite any risks such milestones suggest—and for a retirement fund that counts 3.7 million clients, the risks are enormous—real estate analysts and TIAA-CREF officials described the firm's real estate strategy, which deploys capital across residential and commercial properties in major metropolitan cities, as disciplined.
"We don't look at 8 Spruce Street as a risk play," said Philip McAndrews, managing director and head of real estate transactions and joint ventures at TIAA-CREF. "A risk play would have been developing from the ground up with no leasing and no indication of where rents would be."
Traditionally viewed as a national retirement fund for teachers, TIAA-CREF has evolved dramatically since its inception 95 years ago, when it was created through an initial $1 million gift by the Carnegie Foundation. Launched as a pension system for professors under the moniker Teachers Insurance and Annuity Association, it grew from a firm with just $19 million in 1929, just as the Great Depression was setting in, to $105 million in assets in 1939, according to records.
In 1995, TIAA-CREF launched its first-ever real estate account with a strategy of investing between 70 percent and 85 percent of its assets directly into real estate or real estate-related securities. Today, the firm boasts a total of $502 billion in assets under management, $33 billion of which is made up of real estate investments and $19 billion is direct real estate equity.
"We are an asset management firm, meaning we are running real estate investment assets for our own benefit and also for third-party clients," said Mr. McAndrews in an interview with The Commercial Observer. "The view of us as a pension has evolved to being an asset manager."
However, with the responsibility of managing the retirement funds of many of the country's academic and medical professionals, risk management is an important part of TIAA-CREF's investment philosophy, and real estate investments are not always resounding successes for retirement funds.
470 park avenue south
,
475 Fifth Avenue
,
8 Spruce Street
,
BlackRock
,
Calpers
,
CalSTRS
,
Dan Fasulo
,
Forest City Ratner Companies
,
Frank Ghery
,
mima
,
National Real Estate Advisors
,
New York by Gehry
,
Norges Bank Investment Management
,
Peter Cooper Village
,
Philip McAndrews
,
Real Capital Analytics
,
Stuyvesant Town
,
TIAA
,
Tishman Speyer