Dwight School Signs 20-Year Lease for East Harlem Athletic Center
---
---
The Dwight School has signed a 20-year lease for the 40,000-square-foot athletic center at the Mitchell-Lama apartment complex in East Harlem.
A partnership between the private school — for pre-K through 12th grade students — and 1199 Housing Corporation plan to open the facility at the East River Landing complex this spring, and a $2 million renovation is planned to upgrade the center with a regulation-size high school gym, a 25-yard swimming pool, exercise rooms, locker rooms, saunas and a rooftop space with two tennis courts.
"This transaction is a win-win for both the residents of the housing complex and the Dwight School," said Cushman & Wakefield's Fred Smith, who represented 1199 Housing Corporation with Robert Ballard and Omar Farooq, adding that residents of the housing complex will have shared access to the site.  "It's not often that we as real estate professionals get an opportunity like this to work on a transaction that has such a positive impact on the community."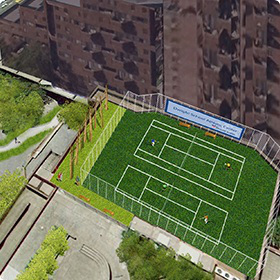 Stephen Spahn, chancellor of the Dwight School, which was represented in-house, expressed relief in an interview with The New York Observer at striking the deal in lieu of building a facility from scratch, especially given the fact that the athletic center underwent a full renovation less than a decade ago.
"We wanted a partnership that would create shared value," he said.  "They literally spent millions upgrading the place and systems were never turned on.  To me, it's an example of how New York will reinvigorate itself. Multiple uses for multiple communities."
Two rival schools, Sacred Heart and the Spence School, opted to build new athletic facilities, with the latter spending $26.1 million just for the land to build its new center close to its East 91st Street mansion, the Observer article noted.
The news comes on the heels of another deal facilitated by Cushman & Wakefield – the kindergarten through eighth grade Speyer Legacy School – which signed an 85,000-square-foot relocation to 400 West 59th Street and 925 Ninth Avenue.