Developers Break Ground at 7 Bryant Park
---
---
Developers broke ground at 7 Bryant Park yesterday, with a consortium of public officials including Mayor Michael Bloomberg gathering to pitch the trophy office tower as a boon for the city.
Politicians are touting the planned 28-story, 470,000-square-foot steel and glass tower, slated for completion in the first quarter of 2015, as a magnet for good jobs, talent and companies.
"The best days are still to come to Bryant Park – a place the city has worked hard to bring roaring back to life," Mr. Bloomberg said at the ceremony, adding that the project will bring "more top-tier, cutting-edge commercial space, and more leading companies and their tax revenue to Midtown Manhattan."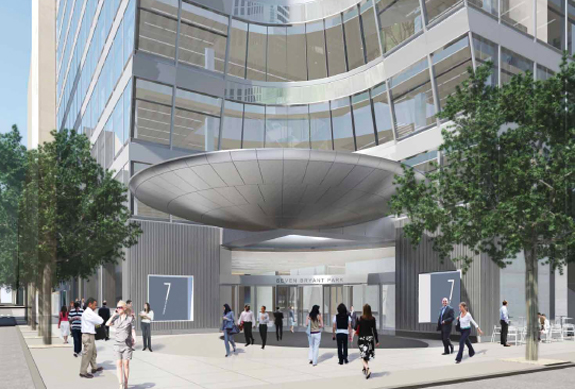 Turner Construction Company, the general contractor on the project, actually began construction on the building at the end of 2012 on behalf of the developers, a partnership between real estate firm Hines, Pacolet Milliken Enterprises, Inc. and institutional investors advised by J.P. Morgan Asset Management.
Located between West 39th and 40th streets, the LEED Gold Pre-certified property will feature a concave, hourglass façade and a stainless steel, disc-like canopy, 46 feet in diameter, to be suspended over its corner entrance at 40th Street.
"7 Bryant Park will create thousands of good-paying union jobs at a time when our economy needs it most," said City Council Speaker Christine Quinn, in a statement. "I welcome this project to our city and look forward to its completion."
Office space will feature 10-foot ceilings, full-height clear vision glass, two spacious outdoor terraces overlooking Bryant Park on the 10th floor and a potential top-floor penthouse­ with outdoor space and park views.
"We are privileged to develop a project of such distinguished design at this exceptional location, bringing a first-in-class office tower to the heart of Midtown Manhattan's business district," said Tommy Craig, senior managing director of Hines' Tri-State operations, in a statement.  "This preeminent property will serve as a singular opportunity for a major tenant seeking both a significant branding presence and new technologies to create an efficient, modern and forward-thinking workplace."
The building's 90 feet of frontage on Avenue of the Americas is reserved for ground-floor retail space, with RKF's Robert Futterman appointed as exclusive retail leasing agent.  CBRE (CBRE)'s Mary Ann Tighe will lead the marketing of the office space.
7 Bryant Park
,
Inc.
,
J.P. Morgan Asset Management
,
Mary Ann Tighe
,
Mayor Michael Bloomberg
,
Pacolet Milliken Enterprises
,
RKF
,
Robert Futterman
,
Tommy Craig
,
Turner Construction Company
,
CBRE
,
Hines