Deutsche Bank's Rosemary Vrablic and Private Banking's Link to CRE Finance
---
---
Got a chunk of change lying around? With a book of business north of $5.5 billion, Rosemary Vrablic, a managing director in the asset and wealth management division at Deutsche Bank (DB), can help.
Private banking is loosely defined as personalized financial services offered by banks to their high-net-worth clients. And the top providers are largely holding steady, according to 2011 year-end results from U.K.-based private wealth management consultancy and research firm Scorpio Partnership.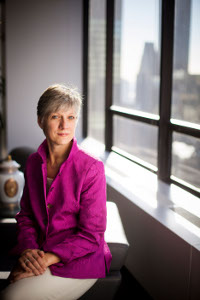 The firm places Deutsche Bank's global assets under management in this area at $348.6 billion at the end of 2011—no small achievement for a German-based bank at the height of the European debt crisis and during a year that saw the United States riled by its own debt ceiling debacle.
"In 2008 and 2009, I saw real concern—even from our wealthiest clients. They were in the most defensive position I have seen in all of my career," Ms. Vrablic told The Mortgage Observer one recent winter morning at the bank's Park Avenue offices. "What we've seen in the last two years is less defense from an '08, '09 standpoint. And I do believe that they feel that valuations have either stabilized or increased, particularly in real estate."
For the commercial real estate finance market, growing optimism is significant, due to private banking's historical role as the go-to source for financing during troubled times. When other sources dry up, qualified customers with the right banking relationship can turn to it. And real estate, Ms. Vrablic said, is her "deep dive" as well as the area in which, she estimated, 40 percent of her some 50 clients have earned their wealth.
Though she declined to reveal names from that roster of clients and relationships, citing confidentiality, over the course of reporting, a few became known and were willing to discuss some of the qualities that make Ms. Vrablic their go-to private banker. One, Indiana Pacers owner Herbert Simon, confirmed that private banking has been a source of financing that he has used during this most recent economic downturn.
"It's probably four years," Mr. Simon estimated when asked how long he's been a client of Ms. Vrablic and Deutsche Bank. "When she came into the picture, it was a tough time to get money, and she was able to be very creative and get us what we needed. In the toughest times, she was very creative, which made me very impressed with her."
He said that most bankers hide when the tide is turning against the client, while "Rosemary went right up there and batted for us and got us the kind of loans that we needed to continue operations." The Indiana Pacers owner and part-owner of the Reno Aces—who ranked No. 218 on the most recent Forbes 400, with a net worth of $2.2 billion—said Ms. Vrablic has handled sports investments.
Ms. Vrablic, who started her career in private banking in 1989, has been at Deutsche Bank since September of 2006 and runs a team of nine bankers there. "Rosemary is widely recognized as one of the top private bankers to the U.S. ultra-high-net-worth community," Thomas Bowers, then head of U.S. private wealth management, said upon her arrival from Bank of America (BAC).
Though Mr. Bowers left abruptly at the end of the year, Deutsche Bank has steadily grown this arm of its business in the U.S., with the addition of several additional private bankers. The bank has also acknowledged that it is committed to strategically growing its private wealth management footprint in the U.S.
Ms. Vrablic has traveled a long road to her current perch in the industry, though one gets the impression that the journey was undertaken with a positive and upbeat attitude.
A native New Yorker, Ms. Vrablic graduated from Fordham University, where she studied economics and political science. When she graduated, the financial industry was in crisis—with savings and loan institutions losing money and the country in recession. Jobs in the financial sector, and elsewhere, were hard to come by.
But, she remembered, "Sometimes out of failure, good things come." A chance encounter on a stalled Metro-North train and a conspicuously capable nature turned out to be serendipitous allies. En route to Scarsdale, where she lived with her parents at the time, she found herself talking with a fellow passenger. "We were just talking, and two hours later I get off the train, and he said, 'You just gave the best interview of your life,'" she remembered. At the time, she was working as a bank teller. The man, Howard Ross, was then the chief credit officer at Bank Leumi.
Bank Leumi
,
Bureau of Labor Statistics
,
Herbert Simon
,
Howard Ross
,
Indiana Pacers
,
Montgomery Securities
,
NationsBank
,
private banking
,
Republic National Bank
,
Rosemary Vrablic
,
Scorpio Partnership
,
Stephen Ross
,
Thomas Bowers
,
Bank Hapoalim
,
Bank of America
,
Citigroup
,
Deutsche Bank
,
Related Companies