Club Monaco Signs 5,100-Square-Foot Lease At 532 Broadway
---
---
Club Monaco is moving on up to the northeast side of Broadway and Spring Street.
The mid-price casual apparel company signed a 15-year, 5,100-square-foot lease at Thor Equities' 532 Broadway in Soho and will move there from its current 14,500-square-foot location at 520 Broadway.
Robert Cohen of RKF represented the tenant. Joseph Sitt's Thor Equities represented the landlord in-house. Asking rents were $800 per square foot.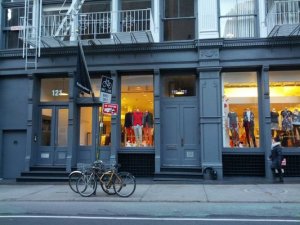 "This was a natural lease expiration for Club Monaco at 520 Broadway, where Michael Kors is going," Mr. Cohen said. "It was an opportunity to find as good a location–if not a better one–and have a bit more space on the ground floor to showcase the Club Monaco experience."
Mr. Cohen said that the latest Club Monaco–a subsidiary of Ralph Lauren–should open by July or August in the former Soho home of Levi's. "It will be a full remodel and very different aesthetic. I'm sure it will be a first class build out."
Club Monaco's current Broadway space is larger than 532 Broadway, but its 14,500 square feet are spread across four floors, the New York Post reported.
"It's important to note that this Soho market is white hot, whether you are on Broadway or inside the box," Mr. Cohen. said. "It's moving at rapid speed"
"Club Monaco has long been a staple of the Soho shopping experience, so it was important that we provided the company with ample Broadway frontage and plenty of retail space," Mr. Sitt said in a statement sent to The Commercial Observer by a Thor spokesman. "Mr. Cohen was very creative in thinking of Club Monaco's expanding needs in Soho, and we are excited to have them as part of our project."
Additional reporting by Gus Delaporte