Clean and Sober: A Tour of Pernod Ricard's New 250 Park Avenue Offices
---
---
It's Thursday morning, 9:15, and the immaculate bar at Pernod Ricard's new Midtown headquarters is empty. Company representatives half-jokingly offer Bloody Marys. But despite scores of bottles of Absolut, Jameson, Glenlivet, Beefeater and Malibu that tauntingly—and in some cases perilously—line the conference room tables and cubicle dividers of the three-floor space, the office is all business.
Pernod Ricard, the French beverage conglomerate with 36 wine and spirits brands under its umbrella, settled into its 82,000-square-foot office at 250 Park Avenue last October, leaving behind 40,000 square feet at 401 Park Avenue South, which it subleased. About 200 employees— including 80 who moved here from the Purchase, N.Y., office—occupy the full 16th, 17th and 18th floors (158 employees remain in Westchester).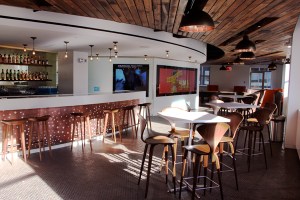 A big draw of 250 Park Avenue was the wraparound corner terraces on the 17th floor, which offer gobsmacking views up Park Avenue and to the East and Hudson Rivers on either end of 47th Street. They've been put to little use over the past four months, and are to be avoided on this arctic day. Luckily, the foosball and pool tables are indoors.
Scott Spector, a principal in the New York office of Spector Group Architects, which dramatically renovated the space "from almost white box conditions," mentions that the paramount goal of the design was to foster collaboration. And the office tour reveals the sort of open workspaces normally associated with web upstarts toiling and tweeting away below 23rd Street. Spector Group re-exposed the brick walls and pipes running below the 14-foot ceilings, bringing a sleekly industrial vibe to starchy Midtown. (The white-shoe law firm Sullivan & Cromwell preceded Pernod Ricard at the address.)
Still, the bright and assiduously funky elements of the office enhance the corporate message. Branded conference rooms include a Kahlua suite awash in Alhambra tiles, a clubby Glenlivet nook where you can smell the leather and oak, and a preppy Perrier Jouet-themed redoubt where Lilly Pulitzer would feel at home on a Skype teleconference, surrounded by pastel floral prints.
And wherever you are on the floor plan, you really cannot help but stare at all those (seemingly unopened) bottles.
"The word 'distillery' was embedded in our brains early in the design phase and needed to be echoed throughout" Mr. Spector says. The firm succeeded. Anheuser Busch—another alcohol giant ensconced in 250 Park Avenu—would need a live Clydesdale trotting around the reception desk to distill its corporate essence so successfully into the workplace.
"Our bar's bigger than theirs," said Jack Shea, the company's senior vice president of communications. Pernod Ricard's employees spread their brand's identity and somewhat soberly revel in it, in and out of the office. Happy hours on the 17th floor occur only on Thursday evenings.
"Our employees like to work hard and play hard," Mr. Shea said. "But we're about moderate consumption of our products, in terms of how we promote them to the outside and our own employees. We're ambassadors of responsibility."