Avalanche Studios Expands Space at 536 Broadway
---
---
Video game developer Avalanche Studios has completed a transaction to expand its office space at 536 Broadway. Avalanche picked up an additional 8,655 square feet in the recent transaction, Ira Rovitz, managing director at Newmark Grubb Knight Frank, who represented the tenant, told The Commercial Observer.
The deal is a 10 year lease, according to David Grijns, general manager of Avalanche Studios' New York office. Mr. Rovitz declined to provide financial details of the transaction.
Avalanche took occupancy at the building in early 2012 with original square footage of 9,705, Mr. Rovitz said. Avalanche quickly outgrew its original office space, but there was never a search for a new location, since the company knew space was coming available, he noted. "It was an opportunity when we originally did the lease," he said.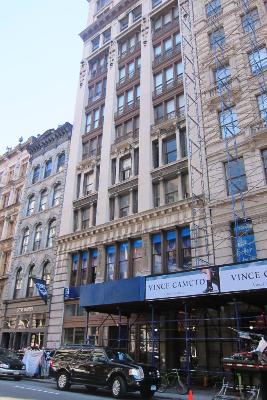 Thor Equities, the building's landlord will bring down the walls in the recently acquired space to make one contiguous office, according to Mr. Rovitz. "Thor couldn't have been more accommodating," he said.
The video game developer prides itself on a collaborative working environment, Mr. Rovitz added. "They like the fact that they can look over to the left and right and see whose who," he said.
Despite the single address at 536 Broadway, the space occupies three different buildings, Mr. Rovitz explained.
"Each building is slightly different than the next. The 530 Broadway space is long and narrow–about 3,000 square feet. That space we're most likely to turn exclusively into a giant meeting room," Mr. Grijns said.
Avalanche employs 220 people, 160 of them located in Stockholm, Mr. Grijns noted.
"We do a lot of Skype conferences. We need a place where all the employees can stand in the same room," Mr. Grijns said. "532 Broadway is much larger. It's similar in size to the old one."
Traditionally, the gaming industry has shunned New York City, Mr. Grijns noted. "Perception is that New York City is simply too expensive and infrastructure too high versus L.A., Seattle or Vancouver," he said. There is also an assumption New York lacks the talent pool to be successful, he added.
"Rather than arguing that, we're building from the ground up" Mr. Grijns said.
Avalanche Studios is set to appear in an upcoming reality show, according to two sources familiar with the matter.
Additional reporting by Billy Gray.