55 Water Street Lands Liberty Mutual Renewal and Expansion
---
---
Liberty Mutual has signed a 10-year, 120,000-square-foot lease at 55 Water Street, a success story to emerge amid a massive renovation project launched in response to a string of misfortunes brought by Hurricane Sandy.
The insurance company doubles its space in the building with the deal, moving from the 18th floor to the 22nd and 23rd floors.
"It's great news for the landlord and it's great news for Downtown," said CBRE's Brad Gerla, who represented the landlord with Mary Ann Tighe, Howard Fiddle and Evan Haskel.
New Water Street Corp. is putting $200 million into the building after it took on some 32 million gallons of water during the storm.  The project includes the transport of key electrical, mechanical and communications equipment to the 3rd floor and storm-proofing to protect against future disasters.
"This landlord went over and above to secure the building and to make sure that something like this doesn't happen again," Mr. Gerla said.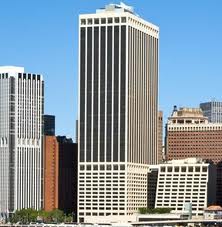 The 687-foot, 53-story skyscraper in the Financial District was among many buildings along the Lower Manhattan waterfront damaged by the monster hurricane, with flooding sustained in its three underground levels and water rising to waist-level in its lobby.
Corporate ratings agency Standard & Poors, which is headquartered at the building and occupies one-million-square-feet, was among those evacuated from the property following the storm.  S&P moved its employees into parent company McGraw-Hill's headquarters at 1221 Avenue of the Americas on the Monday following the hurricane, due to the flooding and electrical damage, sources told The Commercial Observer at the time.
The office building's basement caught fire on November 23 when utility crews attempted to repair the electrical damage sustained during the storm.  About 30 people, including utility workers, were treated for minor injuries and four people were taken to a nearby hospital, the New York Daily News reported the day of the fire.
The building was completed in 1972 and was designed by Emery Roth & Sons and the 3.5-million-square-foot behemoth retains its title as the largest building in New York by floor area, as it was created on a super-block of four adjoining city blocks.
In addition to S&P, the building is headquartered by EmblemHealth, and the city's Department of Transportation also has offices in the building, in addition to Chubb Insurance and Sullivan & Cromwell LLP.
Robert Shulman of Cresa represented Liberty Mutual.  He did not immediately return calls seeking comment.
The asking rent was in the $40s per square foot, according to sources with knowledge of the deal.
1221 Avenue of the Americas
,
55 Water Street
,
Brad Gerla
,
Chubb Insurance
,
Cresa
,
Department of Transportation
,
EmblemHealth
,
Emery Roth & Sons
,
Evan Haskel
,
Howard Fiddle
,
Liberty Mutual
,
Mary Ann Tighe
,
McGraw-Hill
,
New Water Street Corp.
,
Robert Shulman
,
Standard & Poor's
,
Sullivan & Cromwell LLP
,
CBRE