$450 M. Starwood Property Trust Loan in Works for Hudson Yards
---
---
Several sources confirm that Starwood (STWD) Property Trust is in the final stages of issuing a $450 million construction loan for phase one of Related Companies' Hudson Yards project. The loan is expected to close within the next 30 days.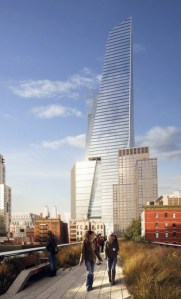 Last year, there was buzz that Bank of America was included in a group of lenders about to issue a $400 million construction loan for this first phase of the Hudson Yards project. A source at the bank confirmed that it had taken a look but that the loan never happened.
A Related spokesperson said that construction on the project's Tower C had begun in early December 2012, but declined to comment on specifics, saying only that we "have our financial commitments for the tower in place."
Tower C, also known as the South Tower, is going up at 10th Avenue and West 30th Street. It will be anchored by leather-goods company Coach and is slated to be 47 stories tall, with 1.7 million feet of office space. Occupancy is planned for the second quarter of 2015.
If the loan indeed closes, it will continue what has been a frenzy of lending activity by Starwood Property Trust. In October 2012, along with a fund controlled by Starwood Capital Group, the REIT completed its largest transaction to date—$475 million in acquisition and construction financing for the redevelopment of the Times Square Gateway Center at 701 Seventh Avenue.
It also recently closed a $86 million first mortgage to refinance the Charles development site at 1355 First Avenue, a previously stalled residential project on Manhattan's Upper East Side.
Josh Barber, an analyst at St. Louis-based Stifel, Nicolaus & Company, told Mortgage Observer Weekly that Starwood steadily growing its balance sheet has afforded it these opportunities.
"There's a very limited amount of people in the commercial real estate world today that can cut a $300 million, $400 million check," Mr. Barber said. "Starwood, given that they have a $4 billion-plus balance sheet, is actually in the position of being able to do that. So frankly, I think it's an advantage for them, and they're actually just exploiting that. The larger loans are really where it's tougher to find a lot of people who could do that, and Starwood is probably one of a very small handful of commercial real estate players that could do a big, large loan like that."
The pending loan was first reported in this morning's Mortgage Observer Weekly. You can sign up here to receive this weekly newsletter.
cgaines@observer.com