The Sony Building: More Shops and Food?
---
---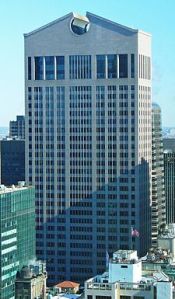 Changes are in store for the Sony Building, as the Japanese multinational has agreed to a deal trading its iconic New York headquarters at 550 Madison Avenue to the Chetrit Group. But what will become of the building's retail offerings?
New York retail oracle, Robert K. Futterman, said he sees an enhancement on the way in terms of shopping interest, pushing that section of the midtown neighborhood to seven-day-a-week shopping corridor status. "It's already a six-day-a-week," he told The Commercial Observer. "Saturdays are busy."
Other retailers along Madison Avenue's Midtown shopping strip could choose to make the leap to the building's space to escape high rents on the avenue, Mr. Futterman said.
Douglas Elliman Retail Group Chairman, Faith Hope Consolo, whose own office at 575 Madison faces the Sony Building, agrees that the area has become an attraction for shoppers. "Now it it's very developed and caters to tourists on the weekends and the workforce during the week."
Retail rents in the neighborhood are about $500 per square foot and very likely to rise dramatically over the next couple of years, she said. "The traffic's been so enhanced and these two streets – 55th and 56th – are like cross town streets," she said.
Most of the retail in the building is relatively middle of the road retailers, not luxury offerings. That is a trend that may or may not continue. "I'm not sure I see luxury at this point but who knows in three years," Ms. Consolo said. The presence of the nearby Peninsula and St. Regis hotels could be an additional boon for traffic.
The building could take a page out of the Time Warner Building's book, or even that of 666 Fifth Avenue, in making the building's individual retailers more street accessible. "Right now you can only enter through the lobby of the building," Ms. Consolo said. "The doorways are only through the walk-through. Although there are display windows wrapping the whole block, there's no street access so you have to go into the building."
Another wise addition would be another large restaurant, Ms. Consolo said. "This neighborhood, right here in these four blocks, lacks for good restaurants until you get west of Fifth and East of Park." A restaurant like Michael's or one of Danny Meyer's brasserie-type offerings might be ideal, she said.
"When we discuss these upper echelon cuisines and food groups I think the most frequent answer you'll get will be a steak house or a high end Japanese restaurant," said Joshua Siegelman, associate director with Winick Realty Group. "Something that's going to cater to these high net worth individuals and a dense tourist quarter."
De rigueur among New York's dynamic business players are high end, vivacious restaurants with an unstuffy atmosphere and air of 'hipsternity,' for lack of a better word.  Examples of this new taste could be Lexington Brass, at 517 Lexington Avenue, from EMM Group. "The EMM Group, in particular with this concept, does a good job of putting together a trendy and upscale environment where cool meets good cuisine," said Mr. Siegelman.
Another example would be STK steakhouse at 1114 Avenue of the Americas, by The ONE Group. "It's another great example of where these guys have brought in the 'cool' factor to an upscale cuisine, versus you prototypical Capital Grille," he said.
Another boon to the soon-to-be-former Sony building, or its immediate neighborhood, would be an Eataly-type offering, "Somewhere where users could purchase food and sit down and enjoy the cuisine," Mr. Siegelman said. "I think if you had something like that there it would uplift that little corridor."
The retail space that stands today at 550 Madison is a far cry from its days as the AT&T Building, Ms. Consolo said. "There was really nothing," she explained. "All of these buildings have the same issue: they have this interior atrium which is open to the public. What happens is it becomes a hang-out. They really had no success in getting any real retail."
Sony's revamp of the ground floor allowed for storefront space. "The corridor is so dramatically different than it was even five years ago and it's developed."